Learning how to hire a chef is an important step in running a growing restaurant. Whether you need a pastry chef, a sauce chef, or a head chef, this role is essential to your restaurant staff management team. If you want to expand your menu, or bring in new creative dishes, you'll need to find a leader who can create an exceptional culinary experience that brings your establishment's vision and goals to life.
To help you navigate the ins and outs of hiring a new chef, this article will cover:
Why you need to hire a restaurant chef
Our suggestions for how to hire a chef
The average chef salary and job outlook
Skills and qualifications of a successful chef
How to write a chef job description
How to keep your chef from leaving
Why Hire a Restaurant Chef?
An experienced chef can help you create new and innovative menus, improve plate presentation, and create a more delightful guest experience. In addition, they can help keep your operations running efficiently by mentoring and coaching your kitchen staff team members.
A talented chef can help your restaurant in many ways:
Introducing new recipes with a variety of flavors and ingredients.
Making inventory purchasing decisions in line with your budget.
Supervising the kitchen staff's meal preparation and food presentation.
Building and maintaining positive relationships with suppliers.
Helping to resolve conflicts with kitchen staff and guests.
Ensuring food handling and cleaning practices are followed.
How to Hire a Chef
It's clear that a chef is essential to any restaurant operation, so now the question becomes how to hire a chef.
If you're wondering how to find a chef, we've created a list of suggestions to help you out. Here are various methods you can use to hire a chef for a restaurant:
Use a Job Board
One of the best ways to find a chef for your restaurant is to post a job ad on a career website, like Indeed, Glassdoor, or LinkedIn. You can also look for hospitality or restaurant-specific industry websites where future chefs might be looking for their next career step. For example, hcareers and ihirechefs are career websites specifically geared towards hospitality jobs.
Use a Recruiting Agency
Another route you can take to find a chef is using a recruiting or staffing agency. These are professional organizations that can find you a new chef for you to save you the time, hassle, and effort of having to find the perfect candidate yourself. The best part about using a staffing agency is that many do not require payment until you hire their selected candidate. That means they can work quietly behind the scenes searching for a new chef until you're ready to take the leap.
Hire Internal Employees
What's better than hiring a cook you already know and trust? Is there's anyone on your team who has gained several years of experience as a sous chef? Maybe they're now ready to climb the career ladder if you provide an opportunity! As a bonus, your employee will feel proud to grow professionally, and you'll have the peace of mind of knowing that they can do the job without a hitch.
Network with Who You Know
Make sure to ask your personal network whether they know someone looking for a career change. Perhaps your suppliers might know, or even your current staff might think of someone if you ask around. Better yet, you could provide an incentive like a cash prize if someone finds you the right candidate to hire. You'll soon find out that word-of-mouth is a very powerful method for spreading job opportunities.
Chef Salary
According to the U.S. Labor of Statistics, Chefs make a median pay of $53,380 per year or $25.66 per hour. The career outlook seems fair with the employment of chefs and head cooks expected to grow 25% from 2020-2030 – much faster than the average for all occupations.
Approximately 18,800 openings for chefs and head cooks are predicted in total from 2020-2030, with many of these openings expected to replace workers who switch to other occupations, exit the workforce, or retire. That means there is a very positive outlook for restaurateurs looking to hire a new chef in the coming years!
Chef Skills and Qualifications to Look for When Hiring
There are many skills and qualities that help a chef succeed in their role, including:
1. Cooking Experience
When you're hiring a chef, you're also hiring a cook. Becoming a chef typically requires five years of kitchen experience. However, exceptions are sometimes made based on work experience. Usually, a chef gains experience through junior positions or cook roles. Knowledge of baking and pastry techniques, and cooking styles are an extra advantage.
2. Eagerness to Learn
Being a chef takes a lot of experimentation and practice. You need to work on mastering different methods of cooking, using flavors thoughtfully, and putting together a variety of dishes. All of these efforts take a significant amount of time and energy. That's why having an eagerness to learn is an important trait to look for when hiring chefs.
3. Ability to Multitask
A chef is often responsible for a variety of tasks, like chopping, preparing sauces, cooking appetizers, main dishes, and desserts. During busy holidays, they need to step in to help other cooks at their stations. For example, they might need to stir a soup while broiling meat. Additionally, chefs may help with cleaning.
4. Eye for Detail
Cooking is considered a science, and therefore a chef must be exact and measure every ingredient. This requires knowing the order of when to use ingredients and understanding how long to cook each item. An eye for detail also comes in handy for portioning, measuring, heating, and presenting food.
5. Leadership Skills
A chef needs to lead a team effectively, and give direction when needed. When working in the kitchen, a chef should be able to ensure that food preparation runs smoothly while maintaining an optimistic attitude. When things aren't going as planned, they need to be able to step in and mentor junior kitchen staff.
6. Creativity
A chef plays many roles, including putting a menu together, plating dishes, and ensuring that food tastes great for customers. All of these activities require an extreme level of creativity. Some chefs also get involved with decor, like tablecloths, dinnerware, and furniture arrangements.
7. Computer Skills
Restaurant POS systems and inventory management software are making chefs' lives easier, but only if they know how to use them! In addition, chefs now interact with customers through online ordering, mobile apps, and even tableside tablets. Chefs need to keep up with all forms of restaurant tech and changing consumer behaviors in order to stay competitive.
8. Genuine passion.
Famous chefs typically become well known through their passion for food, but a career as a chef is very demanding. Chefs often work on holidays when guests are relaxing – like Valentine's Day, Christmas, or Thanksgiving. Therefore it's important for chefs to truly enjoy being creative and creating memorable dining experiences for guests.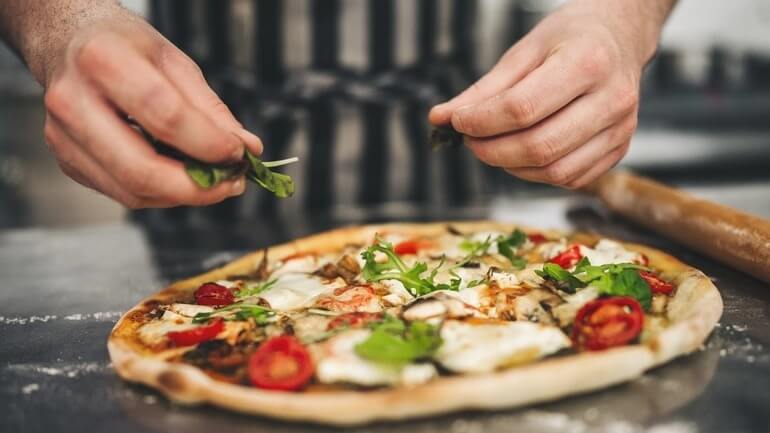 How to Write a Chef Job Description
Writing a job description is the first step in hiring a chef for a restaurant – whether you are looking for a sous chef, pastry chef, head chef, or another type of chef. Your chef job description should include a clear and concise summary of the role, chef responsibilities, requirements and skills, and any preferred experience for the position.
Here are some top keywords used in job descriptions for hiring chefs:
Chef
Cooking
Cooking techniques
Culinary Arts
High Volume
Food preparation
Once you're ready to hire, you can use a new hire checklist for restaurant employees to ensure successful onboarding.
How to Keep Your Chef from Leaving
Think twice before hiring a chef. Consider whether it is really necessary to change the makeup of your kitchen staff. If it doesn't go as planned, will you hurt your bottom line? Will your former chef be upset that they are being replaced and damage your reputation?
Remember that if your current chef quits before you hire a new chef, this can have dire consequences. Your food quality and kitchen preparation speed may deteriorate, resulting in greater restaurant food waste and higher costs.
Instead of hiring a new chef, you can try to retain your current chef and help them better meet your restaurant's requirements. Sometimes, all it takes to keep a chef is showing them that they are appreciated. You can offer a promotional bonus, give them an award, or find other incentives to show them praise and recognition. By keeping your chef, you can save both time and effort from having to recruit and train a new employee.
Being prepared for a transition to hiring a chef can make a positive impact on your restaurant operations and business success. When hiring chefs, you need to know what you're looking for in a candidate, write a job description, and practice your restaurant interview questions.
Remember to also consider the personal qualities that will allow your new hire to thrive. Perhaps they should have leadership skills, an easy-going personality, and an eye for quality. If multi-tasking is a must, remember to emphasize time management skills and attention to detail.
With the right amount of focus, effort, and perseverance, you'll be an expert at knowing how to hire a chef. Plus once you make a hiring decision, you'll be able to make a long-term positive impact on your restaurant's service and reputation. Your new chef should be able to help your restaurant plan creative menu items, control costs, and improve your overall guest experience.
Download your free employee handbook template
Subscribe to the TouchBistro Newsletter