Chef's Table. No Reservations. Ugly Delicious. 24 Hours to Hell and Back.
People love to watch famous chefs on TV. Featuring various talents, cuisines, and formats, there is no shortage of video content catering to the seasoned chef, budding cook, or fanatic foodie.
But what really makes any show is the famous chef behind it. So we've put together a roundup of our top 10 picks for famous chefs on TV you should pay attention to as someone who appreciates the art of cooking great food.
1. Gordon Ramsay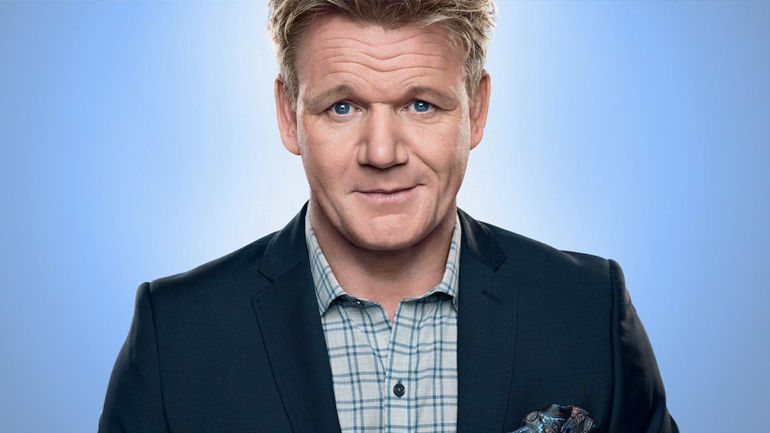 In his latest show, 24 Hours to Hell and Back, struggling restaurants get a second chance as Gordon Ramsay overhauls their business in 24 hours.
Ramsay only brings in the best to transform these restaurants into a well-oiled machine – from the chefs he recruits to retrain staff to a brand new POS system.
With his experience and expertise, it's no wonder Ramsay is able to find success in even the most disaster-stricken restaurants.
As seen on: Hell's Kitchen, 24 Hours to Hell and Back, MasterChef
Cuisine speciality: Traditional British dishes – especially his beef Wellington
Famous quote: "I've had a lot of success; I've had failures, so I learn from the failures."
Fun fact: The only person to ever make Chef Ramsay cry in the kitchen is his daughter, Matilda. After her show aired on CBBC in 2014, she was devastated that her burger didn't look as great as she wanted it to. Ramsay says it brought tears to his eyes to know how much she cared about the presentation of her food.
2. Sunny Anderson
After becoming a DJ at a number-one rated radio station in New York City, Anderson began cooking for her entertainment friends. What started as a hobby turned into a client list for her soon-to-be catering company.
Anderson's connections eventually led to a Food Network guest appearance in 2005. She was inspired to leave her radio career and focus on catering full time. Her first show, Gotta Get It, premiered on Food Network in 2007. Since then she's been a staple on the network.
As seen on: The Kitchen, Cooking for Real
Cuisine speciality: Classic comfort foods with a twist
Famous quote: "Is it really a bowling alley if they don't serve nachos?"
Fun fact: Anderson actually served in the U.S. Air Force from 1993 to 1997, and says she uses the skills she learned every day. She also posted a shoutout on her Instagram for her Colonel's retirement.
3. Marcus Samuelsson
Marcus Samuelsson is a force in the kitchen and on the small screen. Born in Ethiopia in 1971, Samuelsson was adopted by a Swedish family who nurtured his love of cooking. His success grew after he started working in New York City, from his first cookbook in 2003 to the success of his restaurant, Red Rooster.
Soon after, Samuelsson found small screen fame. He appeared on Iron Chef America and went on to serve on shows like Top Chef Masters, Top Chef, and MasterChef Australia. He even competed against Bobby Flay on Beat Bobby Flay – and won! His newest show, No Passport Required, aired on July 10 on PBS.

As seen on: Chopped, No Passport Required, Iron Chef America
Cuisine speciality: Southern soul food rooted in American cuisine
Famous quote: "Hard work IS its own reward. Integrity IS priceless. Art DOES feed the soul."
Fun fact: If Samuelsson hadn't started a career in food, he would have wanted to be a pro soccer player.
4. Guy Fieri
Welcome to Flavortown, run by Mayor Guy Fieri.
Love him or hate him, no list of famous TV chefs is complete without Guy Fieri. Fieri has proven himself as a force to be reckoned with in the restaurant and entertainment industry. He has found wild success as the host of Diners, Drive-Ins, and Dives, amid his numerous restaurants and side businesses.
Fieri owns 17 restaurants and a wine label, Hunt & Ryde. The line is named after his sons, Hunter and Ryder. Fieri is especially proud of the "bomb-ass" Pinot that sells for $50–$100 per bottle.
As seen on: Diners, Drive-Ins, and Dives, Guy's Grocery Games
Cuisine speciality: American
Famous quote: "Peace, love, and taco grease!"
Fun fact: Melissa McCarthy based her character in Bridesmaids on Guy Fieri, going so far as to try to wear sunglasses on the back of her head and asking for short, white, spiky hair. Production eventually had to tell her she couldn't actually be Guy Fieri.
5. Cat Cora
Cat Cora made television history in 2005 when she was crowned the first female Iron Chef. But chef training wasn't her first career move – she graduated from the University of Southern Mississippi with a Bachelor's of Science in Exercise Physiology and Biology before attending The Culinary Institute of America.
You can now find Cora on a multitude of cooking shows, from judging on Iron Chef America or America's Best Cook to looking for delicious food on Best Thing I Ever Ate. She also co-founded the charity Chefs for Humanity, which aims to promote nutrition education, hunger relief, and emergency aid to reduce hunger worldwide.
As seen on: Iron Chef America, America's Best Cook, Best Thing I Ever Ate
Cuisine speciality: Mediterranean fusion
Famous quote: "Even when you have doubts, take that step. Take chances. Mistakes are never a failure – they can be turned into wisdom."
Fun fact: Cora and her wife, Nicole Ehrlich, were featured on Say Yes to the Dress this season. The brides shopped side-by-side but didn't want to see each other's dresses!
6. Matt Basile
In Basile's own words, he left his cushy advertising job to open a food truck because "I'm an early Millennial. We always want to find a career path that really resonates with us. It's a part of our DNA."
Basile's food truck, the Toronto staple fondly named Priscilla, can be found bouncing around the city at any given time. His YouTube videos have gained thousands of views from food lovers worldwide, which eventually led to his Netflix show, Rebel Without a Kitchen.
As seen on: Rebel Without a Kitchen
Cuisine speciality: Street food
Famous quote: "Always be different."
Fun fact: Basile has a competitive streak! He trained for and competed in a charity boxing match this year called Food Fight, where he went by Matt "Bam Bam" Basile in the ring.
7. Maneet Chauhan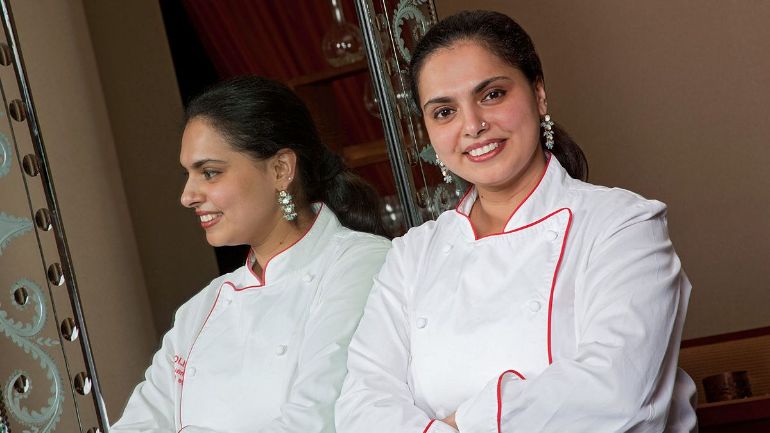 Cookbooks. Restaurant management. Restaurant owner. Small screen star. These are just a few things on Chauhan's impressive resume. Her career took off when she graduated at the top of her class at from the Welcomgroup Graduate School of Hotel Administration – home of India's best culinary and hotel management program – after which she shined at the Culinary Institute of America.
Chauhan then applied for an executive chef position in Chicago, where she beat out 40 male chefs. She later opened her own restaurant and competed on Iron Chef. She was such a fierce competitor that she now serves as a judge.
As seen on: The Chew, Chopped
Cuisine speciality: Indian
Famous quote: "Do something you love and people will love you for it."
Fun fact: As a child, Chauhan used to eat dinner at her house before going to her neighbor's and asking to eat there. She did it so she could ask her neighbors about their cooking, and says that's what sparked her love of food.
8. David Chang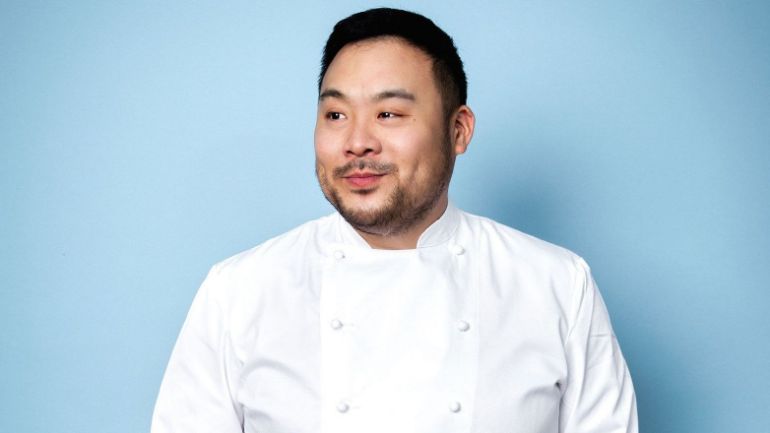 From aspiring golf pro to religious studies major, Chang tried it all before eventually finding his passion for cooking. His parents owned two bistros, but it wasn't until Chang went overseas to teach English in Japan that he started to consider food as a career. He fell in love with the local cuisine and enrolled in culinary school soon after.
Chang eventually opened his first restaurant, the now famous Momofuku, and has been growing his empire ever since – with restaurants, a management group, and a handful of TV shows under his belt!
As seen on: Ugly Delicious, Mind of a Chef
Cuisine speciality: Modern Asian
Famous quote: "Food, to me, is always about cooking and eating with those you love and care for."
Fun fact: Chang was competing in junior golf at the same time as Tiger Woods. While Chang's dad feels that "if he had kept playing golf, he would have beaten Tiger Woods", Chang had pretty much given up after Woods was on the junior tournament pamphlet as the reigning champ at only 13 years old.
9. Bobby Flay
Bobby's Flay's first show, The Main Ingredient with Bobby Flay, first premiered merely 5 years after opening Mesa Grill in 1991. He's continued to grow into a household name ever since – from cookbooks to restaurants to the seventeenth (!) season of his Food Network smash hit.
As seen on: Beat Bobby Flay, Iron Chef America, Worst Cooks in America
Cuisine speciality: American South
Famous quote: "It's important to have balance in your life between work and play."
Fun fact: Bobby Flay is voicing himself in an upcoming Scooby Doo! movie, where he plays Fred's uncle. His other chef co-stars include Giada De Laurentiis and Marcus Samuelsson!
10. Jamie Oliver
Born to two restaurant owners, it's no surprise Jamie Oliver found his way to the kitchen at an early age. At only 16 years old, he left high school to study at Westminster Catering College.
In 1997 when Oliver was featured in a documentary about the restaurant that employed him, his television career kicked off. The Naked Chef premiered soon after and was an instant hit, with numerous seasons and tie-in cookbooks.
As seen on: Jamie's Quick & Easy Food, The Naked Chef, Jamie's Italian Christmas
Cuisine speciality: Italian
Famous quote: "All I ever wanted to do was make food accessible to everyone; to show that you can make mistakes – I do all the time – but it doesn't matter."
Fun fact: In 2012, Oliver was England's second best-selling author, beaten only by J.K. Rowling.
And the list doesn't end there. There are numerous more talented chefs who enjoy acting too, like Celebrity Chef Vikram Vij, Rachael Ray, Wolfgang Puck, and so much more.
Free job application template for restaurants
Free Resources for Restaurant Owners