No matter how sophisticated your menu management system is, sometimes offering less is more. That's why a prix fixe menu can be so valuable to your business.
Perfect for large groups, parties, and a packed restaurant full of holiday diners, a prix fixe menu streamlines things for guests, servers, and the busy kitchen. It's a sure-fire way to increase speed and efficiency at your restaurant during busy times – and it's pretty easy to whip up.
So how do you implement this at your business? Easy!
In this article, we'll answer all your pressing prix fixe questions, including:
What is a prix fixe menu and what your menu will look like
How to make a successful prix fixe menu
The benefits – for both your restaurant and your diners
Alternate forms of prix fixe
Real life cases of successful restaurants that use prix fixe menus
Let's get started!
What Is a Prix Fixe Menu?
A prix fixe (a French term meaning "fixed price") is a menu that offers a full meal at a set rate. Typically, that means diners get three courses consisting of an appetizer, entrée, and dessert. Diners choose from multiple options for each of the three courses, but the price remains the same no matter the selection.
Some restaurants exclusively offer this type of fixed menu, others offer it on special occasions, and some will provide a separate prix fixe option on top of their regular everyday selection.
How to Make a Successful Prix Fixe Menu
Now that you've got the concept down, let's dive into how to make one.
1. Choose Two Different Price Points
Prix fixe can often feel forced – too much food or an unwanted salad or dessert. You don't want to shove anything down your guest's throat, so consider offering a two-tiered prix fixe menu. Set a fixed price for a two-course meal and a second – higher – price for a three-course meal, so guests feel they have options.
2. Follow the "Three of Each" Rule
There should be at least three varied offerings per section.
For example, a fixed menu restaurant could offer the following options:
Three-Course Meal for $25.99
Appetizer
Kale & quinoa salad
Red pepper tomato soup
Shrimp cocktail
Entrée
Filet mignon w/ frites & mixed vegetables
Salmon w/ string beans & couscous
Vegetarian option – falafel w/ beets & arugula salad
Dessert
French vanilla ice cream
Chocolate cake w/ raspberries
Fruit salad
Typically three options per course is the norm, so diners aren't overwhelmed with options but still feel like there is an ample selection.
3. Review Your Best Sellers
Review your sales and inventory reports to determine your most popular dishes. Choose one or two of your best-liked plates to put on the prix fixe, or offer something similar, so guests don't fear missing out on their favorite dish.
People love a good prix fixe, so give the people what they want!
What Will Your Prix Fixe Menu Look Like?
Now that you know how to make a prix fixe, you need to plan the look of your menu.
A prix fixe menu conveniently fits on one page, allowing for a unique and elegant presentation of the fruits of your labor.
Your menu should essentially look like a table of contents or a schedule of a diner's meal at your restaurant. Give diners a list of what will come first, second, and third.The fixed price will be clear, so no math is involved when dining on a budget.
What Are the Benefits of a Prix Fixe Menu?
Besides saving diners the burden of leafing through a lengthy menu, there are a lot of benefits for both the owners and guests.
Here's how it all breaks down for restaurant owners.
Benefits for the Owner
Control Costs
A major advantage of using a prix fixe menu is that you know the food cost per diner at each table. Instead of having to stock a wide range of ingredients that may or may not be used on a daily basis, you can order for a select number of dishes – save money on inventory!
Control Your Cost of Goods Sold (COGs)
Your Cost of Goods Sold are the raw material costs of your menu items – the actual amount of food and beverage used to produce your food and beverage sales.
To increase profits, use the most expensive dish – the one that contributes most to your COGs – to set your prix fixe menu price. If the fixed price covers the cost to prepare the most expensive option (with a decent profit margin), you will make a profit whether diners choose that option or the least expensive one. The amount of profit just depends on what the customer chooses to order.
Calculating your COGs and using that information to your advantage will ensure you're maximizing the potential profit of your prix fixe menu.
Generate Buzz for Your Business
Just like seasonal fruit, prix fixe menus can come and go when you need them. Many restaurants will only employ a prix fixe strategy on a part-time basis.
An increasingly popular trend in the industry is to utilize a prix fixe system as a marketing tool, either on your own as part of a community-wide or city-wide event Advertising a limited-time event with a prix fixe menu can create some buzz about your business.
Possible occasions for a special prix fixe can include:
Holidays (think Christmas, Mother's Day, or Valentine's Day restaurant promotions)
Pop culture events (like sports events, the Oscars, or local restaurant weeks)
Anniversaries (10 years since we opened our doors!)
Your city's restaurant week
Fun creative ideas (70s night, vegan night, or a seafood night)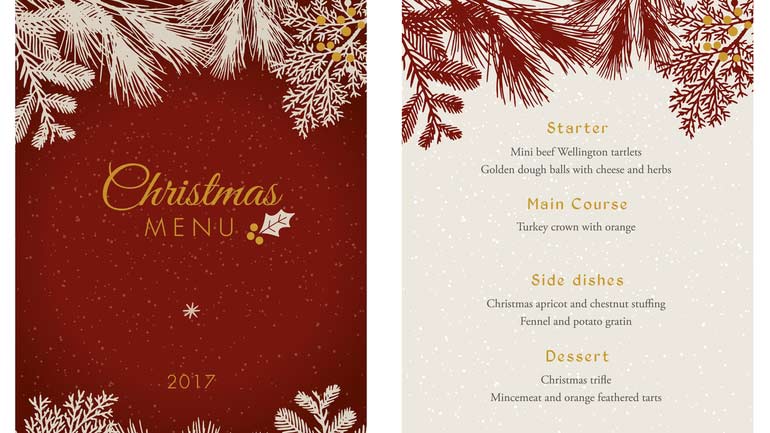 A well-executed special event with a unique menu will make both loyal and first-time guests feel like they're part of something exclusive and special.
Promote Dishes to Signature Status
Every restaurant can benefit from having what's known as a signature dish. A signature dish is anything that is a best-seller and may even be something your restaurant is known for! A signature dish that is popular with local clientele can really boost your restaurant's reputation.
How do you promote a signature dish?
Include in on a prix fixe!
When there are a lot of options on your regular menu, this dish might be lost in the weeds. If your chef has a secret weapon, give it a boost by making it one of just three choices available.
Check out our other tips on how to boost profits through proper menu design.
Manage for Both Front- and Back-of-House Staff with Ease
Your staff's lives just became a lot easier.
When you have fewer options on the menu, it's easier for servers to take and manage orders, and easier for chefs to prep, cook, and plate them.
A prix fixe menu also makes it easier for your team to ensure quality. Your team just has to master making a few dishes, rather than a wide range of them throughout a shift. That gives them more time to pay attention to the consistency of the food and the small details. Your service can be more systematic and smoother as a result.
Change Is Good – Try New Dishes!
Constantly changing up your menu can drive customers back through your doors, to see what you're cooking up next! It prevents staleness and ensures you're keeping up with trends – both important for continued success in the restaurant industry.
Experimentation can also lead to finding new smash hits, and with a prix fixe tasting menu, you can change frequently to try out these new dishes.
Upsell with Alcohol
You better believe we didn't forget about the wine.
Adding beer, liquor and wine into the mix is a great way to boost sales and improve the experience. An increasingly popular trend in fixed menu restaurants is to include beverages into the prix fixe price or add a set price on top of the meal.
Adding a set price for drink pairings with each course is a good way to boost liquor sales. Guests think they're getting a great experience AND saving money, just like with the prix fixe food menu.
Benefits for the Customer
Benefits for the customers and for the owners are really just one and the same – happy customers will spend more and come back for more!
Here are some of the ways your customers benefit from a prix fixe menu.
Make Their Decision Easier
In today's working climate, people are forced to make tough decisions all day long – why not make their lives easier by taking away one of those tough decisions?
Research shows that too much choice can actually hinder the decision-making process altogether. In early 2000, psychologists Sheena Iyengar and Mark Lepper published a study that showed shoppers who saw 24 choices of jam were one-tenth less likely to purchase than those who had only six.
Keep this in mind when designing your menu – you want to keep it simple and straightforward, so choices are easy! If you post your menu by the entrance for the public to see, don't lose out on potential walk-ins by presenting a cluttered menu. A prix fixe menu makes it clearer to the diner what their order would be, making them more likely to dine with you.
Smaller Portions, More Courses
Keeping with the theme of less is more, prix fix portions are often smaller than the regular menu, but diners get more of them than they would typically order. Customers get three courses and feel like they are getting a deal, instead of spending their budget on just an entrée.
Guest Can Try Everything
Ever look at a menu and wish you could try all of it?
Well, with a prix fixe offering, you can! Prix fixe menus allow a kitchen to showcase their skills, and guests get to taste the benefits.
Different Styles of Prix Fixe
Prix fixe doesn't just mean a three-course menu at your restaurant. There are some well-known variations of the fixed menu that have been proven successful in different restaurants.
Table d'Hôte is a similar fixed menu restaurant concept but not quite the same. It's a French term directly translating to "Hosts Table."
With Table d'Hôte, there is a fixed price for certain courses, but unlike prix fixe, the entrées vary in price. Depending on which choices you make for every course, you pay a different price.
Teishoku is another similar style of service, originating in Japan. Restaurants that offer a Teishoku option will serve platters or boxes of multiple dishes from the menu at one set price, kind of like a meal bundle.
Real Life Cases of a Successful Prix Fixe Menus
We aren't the only ones who love prix fixe menus!
Take it from these real life examples of how a prix fixe menu can boost your popularity and sales.
Temporis
Based in Chicago, Temporis takes their inspiration from their hydroponic garden, where they grow all their own ingredients. Their tasting menu is an evolving 10-course prix fixe experience based on imaginative creations and fresh experiences.
They are a perfect testament to how a constantly evolving prix fixe can promote their mission statement while boosting sales.
Trestle
Located in the heart of San Francisco, Trestle offers an affordable three-course prix fixe menu all for just $39. It's described as a family friendly prix fixe, that uses seasonal ingredients in simple interpretations of classic comfort food.
Alo
Alo is a contemporary French restaurant and cocktail bar located atop a heritage building in downtown Toronto. They offer multi-course tasting menus, which are paired with distinctive wines from both familiar and lesser-known regions. Their prix fixe menu runs for $165 a person.
Pearl Morissette
Located in Niagara-on-the-Lake, the restaurant at the Pearl Morissette Vineyard serves an ever-changing, multi-course menu of the best ingredients of their region inspired by seasonal French cooking. Their restaurant doesn't offer an a la carte menu – they serve an eight course prix fixe menu daily.
Blackbird
Blackbird has been a staple of the Chicago restaurant scene since 1997. They offer prix fixe options for both lunch and dinner all revolving around the theme of midwestern cuisine. Since their inception, Blackbird has won multiple awards including the James Beard Best Restaurant Design Award in 2002.
Actinolite
Based in Toronto, Actinolite discreetly offered a prix fixe menu at the bottom of their menu. After seeing the success of this menu, they adopted the format exclusively, offering three different prix fixe menus and no a la carte menu.
Here's a quote on their story:
"Our Chef's Menu, which debuted discreetly at first in fine print at the bottom of the standard menu – is the product of this bounty: a seven-course meal built around hyper-fresh ingredients as selected by the kitchen. Word about Chef's Menu spread and soon the majority of our guests were requesting this memorable meal. This was the crossroads. We decided: in order to give our guests the full experience of Actinolite, we would offer a Chef's Menu (seven courses) and a Summary Menu (four courses)."
Changing up your menu is always nerve wracking, but a prix fixe menu is a great way to test new options and make changes without having to fully commit. There are major rewards that can come from this format of menu, which is proven through restaurants finding success with this approach.
Less on the menu can be more when implemented strategically. Just remember, the fixe is in.
Download our free inventory template
Subscribe to the TouchBistro Newsletter