As a restaurateur about to embark on the journey of starting your very own business, there are so many different options available to you. From fine dining to food trucks, there are more than a dozen different types of restaurants you can run – it's just a matter of choosing the business model that fits your goals.
So, if you're looking for ideas on what kind of venue to open, this guide offers:
14 unique categories of restaurants
4 ways that people typically categorize restaurants
Let's dive in.
What are the Different Types of Restaurants?
Before you make a final decision on the type of restaurant you want to open, be sure you understand all the exciting options available to you. Here are the 14 most common categories.
1. Fine Dining Restaurants
If you're all about providing white tablecloth service, fine dining is the category for you. The fanciest of all the restaurant models on this list, staples include impressive wine lists and entrees – think filet mignon or cedar plank salmon.
At this type of restaurant, you need to wow your guests consistently with outstanding cuisine and creative food plating techniques. You must also offer an upscale atmosphere with exceptional service, carefully curated music, and beautiful lighting.
Full service
Formal environment and high-quality food
$$$$
Find out how TouchBistro's Fine Dining Restaurant POS can help you create an elevated hospitality experience.
2. Bistro
This restaurant category originated in Paris. It's similar to a cafe, but with more emphasis on breakfast and lunch dishes than on specialty coffees. A type of limited service restaurant, guests at a bistro usually order and pay at the counter, then seat themselves at a table where a server brings them their food.
Bistro menus generally feature dishes at higher price points than what you'd be serving up at a fast food dining restaurant – think artisan grilled cheese sandwiches, and daily soup and salad specials.
Limited service
Light and airy atmosphere with fresh fare
$-$$
3. Casual Dining Restaurants
Casual dining is one of the most popular small business trends among all the different categories of restaurants. That's because casual dining restaurants are sure to please the crowds with their classic dishes, hearty portion sizes, and middle-of-the-road price points.
Examples of wildly successful brands include Olive Garden, Outback Steakhouse, P.F. Chang's China Bistro, T.G.I. Friday's, and The Cheesecake Factory. These restaurants all offer a welcoming, fun, and laid back atmosphere.
Full service
Relaxed environment and medium quality food
$$
4. Contemporary Casual
One of the newest types of restaurants, contemporary casual restaurants are characterized by their modern flair, an energetic vibe, and innovative dishes and drinks. Prices typically fall between fine and casual dining.
Contemporary casual restaurants often feature hot food trends like craft beer (or even kombucha) on tap. They also tend to use local ingredients and sustainable takeout packaging. If you love creating menu items that combine a fusion of different cuisines, this could be a great business option for you.
Full service
Vibrant, trendy atmosphere, and medium to high-quality food
$$-$$$
5. Family Style
These restaurants are all about comfort and ease. Family style restaurants offer a casual atmosphere and an affordable selection of dishes with lots of favorites for the kids like chicken fingers, pizza, and ice cream (plus adult beverages for Mom and Dad).
Among all the types of restaurant categories, family style restaurants are often the go-to choice for birthday parties, graduation dinners, and other special occasions.
Full service
Relaxed environment and medium quality food with kids' menu
$$
Explore how TouchBistro's Family Style Restaurant POS can help you create a fun dining experience for families.
6. Diner
Checkered tablecloths, retro booths, and a jukebox tucked in the corner of the room – who doesn't love a diner? These kinds of restaurants boast irresistible delights like milkshakes paired with cheeseburgers and French fries.
Many diners offer 24-hour service, so consider how you might tackle this logistical aspect of your operation. Reliable staff and a well-thought-out scheduling system will be key to your success as the proud new owner of your neighborhood's favorite diner.
Full or limited service
Atmosphere varies from simple to retro with medium quality food
$-$$
7. Pub or Brewery
One of the most beloved kinds of restaurants, pubs can be found throughout nearly every North American city and town. Breweries have also become increasingly popular in recent years due to a growing affinity for craft beer.
Pubs and breweries often serve up comforting, hearty fare that pairs well with beer. For instance, burgers, sandwiches, and pizzas often dominate the entree section of pub menus. Price points tend to be higher than at diners, but budget-friendly enough that guests won't skip ordering a beer.
Full service (sometimes limited service in the case of breweries)
Casual or themed environment with medium quality food
$$
8. Fast Casual Restaurants
Fast casual is all about the marriage between quality and convenience – the former being what differentiates fast casual vs fast food. While chains like McDonald's and Taco Bell fall squarely in the fast food category, brands like Chipotle and Panera are characterized as fast casual types of restaurants.
These restaurants place an emphasis on eating in, customizable meal options, and even offer alcoholic beverages in some cases. Fast casual businesses generally don't have a drive-thru or stay open as late at night as fast food joints.
Quick or limited service
Slightly more upscale atmosphere than a fast food restaurant
$-$$
Discover how TouchBistro's Fast Casual Restaurant POS can help you maintain quality and convenience in your guest experience.
9. Fast Food Restaurants
Fast food brands are a staple of North American culture. A&W, Burger King, and Dairy Queen are just a few of the most popular fast food restaurants. Pizza places like Domino's and Little Caesars fall into this category, too.
These restaurants are known for low prices and preparing food with speed (hence the name "fast food"). The speed of service means that the focus of fast food restaurants is generally on quick and simple dishes such as burgers, fries, and sandwiches.
Quick service
Most casual atmosphere of all the types of restaurants
$
10. Buffet Type
"All you can eat!" Those four magic words are music to hungry diners' ears. Even if you put a limit on your buffet, this option is still a crowd-pleaser among all categories, and it's generally an affordable choice for guests who want a generous meal for a fixed price.
Breakfast buffets, Chinese food buffets, catered buffets – the choices are plentiful for you as a restaurateur. This style of service is all about executing large orders on tight deadlines.
Self service
Guests choose from a limited number of dishes set out in heated trays
$-$$
11. Cafe
One of the most iconic restaurant categories, cafes have made their way into chart-topping love songs and star-studded films dating back decades. This restaurant concept borrowed from Europe is now mainstream in North America. Cafes are often the heartbeat of their neighborhoods.
While the morning cup of coffee takes center stage at most cafes, a variety of tea, specialty coffees, and sometimes even sandwiches and desserts are also on order. The atmosphere is ideal for everything from first dates to business meetings, and the prices are reasonable.
Limited service
Cozy atmosphere with quiet music, hot beverages, desserts, and some lunch items
$-$$
Find out how TouchBistro's Cafe POS can make your cafe the next local legend.
12. Food Truck, Cart, or Concession Stand
Mac and cheese, tacos, and even waffles – the food truck craze is going strong lately, with something for every type of customer. Menu prices are generally low, but then again, so are your startup costs as a restaurateur. Another bonus? A food truck enables you to be mobile.
Food trucks are synonymous with summer and outdoor events, making for a fun environment. Just be sure to set up somewhere that your guests will be able to grab a seat and stay awhile, and that you have all the proper permits to park your truck.
Quick service
Guests order at a counter then take their food away in to-go packages
$
13. Pop-Up Restaurants
Characterized by eclectic, here-today-and-gone-tomorrow experiences, pop-up restaurants evoke an air of excitement that will drive guests to your tables in droves. These temporary full service restaurants are often tied to events, like a city-wide food festival.
Pop-ups are usually thematic, so you can get creative about the type of food you'll serve depending on the theme, and charge an appropriate price point.
Full service
Environment and cuisine varies based on pop-up type
$$-$$$$
14. Ghost Restaurants
One of the newer restaurant categories, the ghost restaurant found its way back into the spotlight recently due to COVID-19. Unlike other models of restaurants, ghost restaurants are set up for delivery only. Price points vary depending on the kind of food offered.
Keep in mind that while you won't need a seating area if you open a ghost restaurant, be sure to allocate ample space for parking so couriers can pick up delivery orders with ease.
Delivery service
A variety of food types served from a kitchen only with no seating room
$$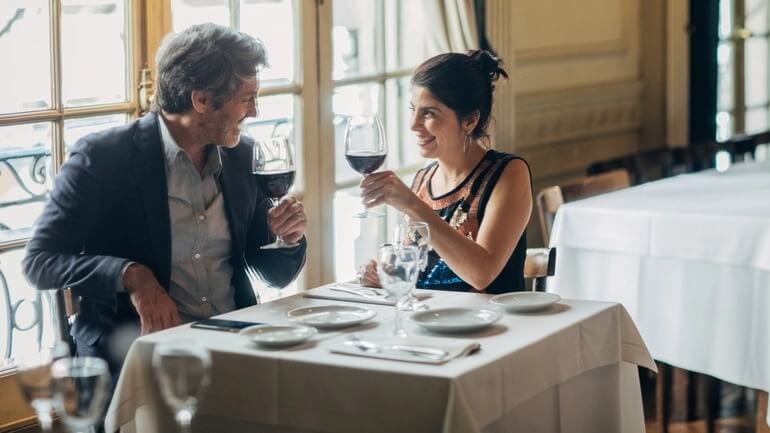 How to Categorize the Types of Restaurants
As a restaurateur, it's helpful to have an understanding of the market and how people generally categorize restaurants so you can figure out where it makes sense for you to fit in.
Common Categorization Factors
1. Service Type
Generally, there are three main service types a restaurant will fall into:
Full Service: Staff provide full service to guests – from the time they arrive until the time they pay.
Limited or Hybrid Service: Limited service falls somewhere between table service and counter service. In most cases, guests are seated by a host, but they order any food and drinks themselves from a counter. Their order is then delivered to their table by a staff member.
Quick or Self Service: In many fast food and fast casual concepts, staff service is limited to a counter or drive-thru window.
2. Atmosphere
Will your venue have loud music and a lively vibe, or a quiet, romantic atmosphere? Whether you choose to go casual or formal, keep in mind that your restaurant's environment needs to align with your brand to create a cohesive experience for your guests. People dine out for the food, but a great atmosphere makes for loyal regulars.
3. Price
Some diners like to splurge on their meals, while others prefer to stick to a tight budget. You'll want to be able to clearly communicate which of the following categories your restaurant fits into, price-wise, so you can attract the right guests for you: $ (inexpensive), $$ (moderately-priced), $$$ (expensive), or $$$$ (most expensive).
4. Food
Even with excellent service, a great atmosphere, and competitive prices, your restaurant needs to produce quality dishes on a consistent basis to keep your guests coming back. Factors that determine which restaurant category you fit into include the quality of your ingredients, the presentation of your dishes, and the size of your portions. A fine dining experience with high-quality ingredients, artistic presentation, and small portions stands apart from your typical burger and fries – but each is wonderful in its own way.

We've now covered 14 different restaurant categories and how people usually categorize restaurants. Feeling inspired yet? We can't wait to see what you do next.
Free job application template for restaurants
Get hot restaurant tips. Delivered.