Top-notch cuisine will get you into your customers' good books, but convenience is the key to driving repeat business for your restaurant. And one of the easiest ways to make ordering from your restaurant more convenient is to ensure your customers aren't limited to making call-in orders when they're craving takeout or delivery. Instead, give them the option to place an order directly from your website.
Putting call-in orders on hold and embracing direct online ordering isn't only beneficial to your customers, it's also an ideal choice for your business. Direct online ordering enables you to accept more orders and increase profits. It also allows you to engage your team in cross-training and to control specials, like super bowl restaurant promotions. In addition, online ordering results in fewer order errors and a better customer experience.
In this article, we'll explore the differences between ordering food via the phone vs. online and how each method works. We'll also highlight 5 reasons to switch from taking call-in orders to accepting online orders at your restaurant.
Call-In Ordering vs Online Ordering
Whether you're a techie at heart or you favor analog communication, there's no denying the advantages of online ordering for restaurants. To make the case, let's compare traditional call-in ordering to online ordering software.
Call-In Ordering
Up until a few years ago, the restaurant phone ordering system was the primary way most restaurateurs took takeout and delivery orders.
Here's how it works to accept an order in this way: a customer calls to order a meal and an employee takes their order over the phone, manually recording it in the restaurant's POS system, which then alerts the kitchen to begin preparing the order.
This process sounds simple enough, but it can get tricky if your phone line is busy and customers can't get through. The risk of error is also higher with call-in orders because employees can't always hear exactly what customers are saying – especially in a loud environment like a restaurant. Similarly, customers may not always understand or hear what staff are saying. And of course, misunderstandings or incorrect orders or often lead to unsatisfied customers.
Online Ordering
Online ordering has been gaining popularity for several years, but it skyrocketed during the COVID-19 pandemic, rising 30% worldwide and making up nearly 90% of takeout orders according to a survey of US consumers. North of the border, the number of Canadians ordering food online jumped by 4.2 million. Even more promising, nearly 50% of Canadians plan to keep ordering food online even when the pandemic comes to an end.
With an online ordering system, customers can order takeout and delivery from your restaurant in three main ways, depending on the type of system you've chosen to use:
Option 1: customers order through your website via a direct online ordering system like TouchBistro Online Ordering. This information is then sent to your POS.
Option 2: customers order through a third-party app like DoorDash or Uber Eats. This information is sent to a dedicated tablet, then the information must be manually recorded in your POS.
Accepting online orders still requires some involvement from your staff, and this varies depending on the method of online ordering you're using. However, the level of staff involvement is far less than it would be with a phone system. Plus, order accuracy is better with online ordering, regardless of whether you choose a direct or third-party option.
​​5 Reasons Restaurants Should Switch from Call-In Orders to Online Orders
1. Increased Accuracy
You may have the best employees in the biz, but they're still human, which means they can make mistakes when taking call-in orders – especially when noise, stress, and time are factors.
In contrast, online ordering lets your customer make their entire takeout or delivery order on their own through your website. This significantly reduces the room for error in the transaction process, ultimately cutting down on the number of complaints you receive and the restaurant food waste you generate from sending out the wrong orders. It's a win-win for both you and your customers.
You'll benefit most from online ordering accuracy if you allow customers to order directly through your website rather than through a third-party app. Using a direct online ordering system like TouchBistro's enables you to sync your Online Ordering and POS menu from the Cloud. This means you'll only ever need to make menu or pricing updates in one location, instead of having to contact a third-party vendor like Uber Eats to make changes for you
2. Better Customer Experience
Since customers can't necessarily see your menu or all of your offerings when they call to order takeout or delivery, this makes the selection process more difficult. It also means you could be on the phone for a while holding up the line as you answer questions about your food – and nobody likes being put on hold (or not getting through at all). Even worse, a customer could call to order their favorite dish only to find out it's been 86'd.
With online ordering, your customers will have all the information they need about your menu right at their fingertips. This way, they can take their time deciding on a dish and order exactly what they want, including the perfect sides or dipping sauces.
You can even use a customer loyalty program to make the takeout experience even more rewarding. For instance, TouchBistro Loyalty integrates with the TouchBistro Online Ordering system so your customers can earn points and redeem rewards every time they purchase a meal from your restaurant. This gives your customers an incentive to make repeat orders instead of shopping around at different restaurants, which third-party apps often encourage. It's also a great way for you to make some extra cash, as loyalty programs have been shown to increase customers' spending by 18%.
Another bonus to direct online ordering specifically is that it helps you maintain quality control. When you let a third-party vendor take customers' orders for you, there's no way to be sure of the experience your customers are having or the quality of the food they're receiving via third-party delivery. When you keep your online ordering business in-house, you can ensure excellent service and delicious, hot food every time.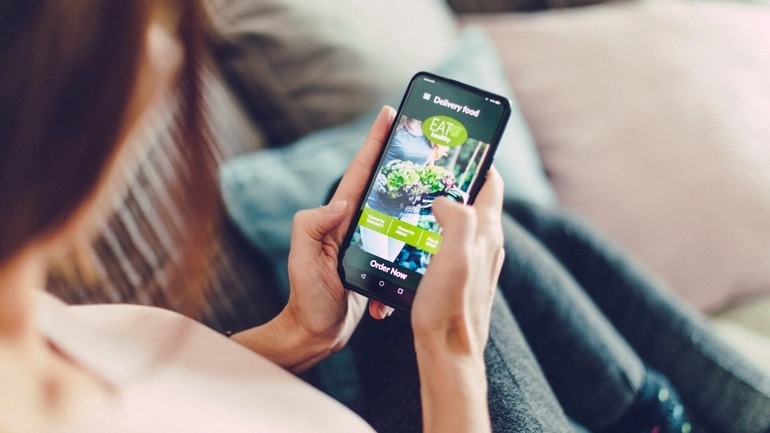 3. Great Staff Efficiency
When your staff have to use a restaurant phone ordering system to take orders, it means they're often tied up and don't have time to spend on tasks like prepping cutlery and wine glasses for the dinner rush, building relationships with customers, or cleaning tables to flip them for your next seating.
Alternatively, an online ordering system like TouchBistro's will send orders straight to your POS. This frees up your employees' time to focus on other duties and ensures you don't end up buried in a pile of dirty dishes.
"With TouchBistro Online Ordering, it takes three to five seconds to review the online order and accept it, instead of taking three to five minutes to take the order over the phone," says Marco Ramirez, owner of Esmeralda's 2.0 The Best Mexican Restaurant in Eureka in northern California. "Now, we can maximize our employees' time," he adds.
The key to efficiency is to look for a modern online ordering system that is easy to use. This will streamline the training process – even for your employees who aren't tech-savvy – and help you get the system operational in no time.
4. Increase Order Volume
With call-in orders, your restaurant can only accept as many orders as your staff are able to take by phone. And if a customer keeps hitting a busy signal, they're unlikely to call back – especially if they're already only moments away from hangry. This is a surefire way to leave a bad taste in their mouth.
In contrast, online ordering enables your customers to order as much and as frequently as they like, allowing you to accept more orders at a time. For example, Esmeralda's 2.0 used to average between $1,000 and $1,500 in call-in orders for takeout during peak times. Now, the restaurant's sales have doubled.
"With TouchBistro Online Ordering, we're doing between $1,800 and $2,100 per hour in takeout sales. We can take on an additional $500 in orders per hour because we're not busy holding up the phone lines," Marco says. "Kitchen staff can start putting out more food because they're not being held up by us going over the order with the customer."
5. Boost Revenue
Driving greater order volume isn't the only way to boost your restaurant's revenue with online ordering. Upselling is another key benefit of taking orders digitally versus using a phone ordering system.
When customers order over the phone, they may rush to place their order and spend less time thinking about all of the different options you offer.
However, with online ordering, customers can take their time choosing their perfect meal and can easily be swayed by an online ordering menu optimized for upsells. Upgrade to sweet potato fries? Yes, please. Add an extra side? Don't mind if I do. In fact, research shows customers spend an average of 50% more on takeout when they order online vs. when they call to order.
And while third-party online ordering systems can also help you boost revenue, most of those profits are eaten up by high commission fees (as much as 30%!). Whereas, a direct online ordering system that charges $0 in commission fees, like TouchBistro Online Ordering, helps you keep more of your money in your pocket.
"While paying 30% fees to third-party ordering and delivery sites may be worth it initially to gain a wider reach and expand your restaurant's customer base, not paying a 30% commission per transaction is an excellent reason to look into a DIY online ordering system," according to this article by Hospitality Technology.

After covering all the differences between a restaurant phone ordering system and an online ordering system, it's clear that there are many benefits to swapping your restaurant phone system for a direct online ordering system. From greater staff productivity to increased revenue, there's never been a better time to invest in this self-service technology and start taking online orders vs. call-in orders.
Free online ordering signs for your restaurant
Get hot restaurant tips. Delivered.