Cider is bubbly, it's sweet, and it's taking over. Hard cider brands have a grip on the market that's only going to become stronger: according to industry analysts, the global market for hard cider is projected to reach a whopping 13.8 billion US by 2024.
So why is hard cider becoming so popular?
Cideries are creating bold new flavors and interesting blends, and experimenting with flavor profiles that are outside the realm of fruit.
While there are some exceptions, most hard cider is gluten-free.
Local cider houses and small breweries are gaining popularity in their towns, with people preferring to shop local.
Hard cider is sure to just keep getting bigger and better. Here are our 10 best hard cider brands making a splash in the market today.
1. Citizen Cider the AmeriCran
ABV: 6.1%
No, that's not a typo – this cranberry-infused cider is made with Vermont cranberries and apples for a tart and crisp flavor that's satisfying on any summer day.
Citizen Cider was started by three friends from three different backgrounds: chemistry, farming, and wine sales. Justin Heilenbach, Bryan Holmes, and Kris Nelson applied their skills to create the "unique and interesting" hard cider brand that is Citizen Cider.
2. Ace Cider's Pineapple Hard Cider
ABV: 5.0%
Ace Cider's is a family-owned cider company that has been brewing since 1993. Located just north of San Francisco, they offer nine unique cider flavors!
Wine blogger Marissa A. Ross of Wine. All the Time is a fan of Ace Cider's Pineapple Hard Cider. It's the best of both worlds: hard cider and tropical fruit. A refreshingly sweet treat from a reputable hard cider brand.
3. Square Mile Hopped Apple Cider
ABV: 6.2%
Square Mile dry-hopped their classic hard apple cider to bring out all the flavor with no bitterness. This nine-time award-winning cider is a flavorful and aromatic hard cider experience. The company proudly pays homage to the "original American pioneer" with their drinks – seen especially via their nature-driven Instagram aesthetic.
4. Angry Orchard Green Apple Cider
ABV: 5.0%
Angry Orchard's delicious cider has been perfected over time – nestled in the heart of the Hudson Valley on a 60-acre orchard, cider has been made there for over 200 years!
And you can tell they've perfected it. Our hard cider brand review is in: their Green Apple blend of Granny Smith, Braeburn, Fuji, Gala, and Pink Lady apples is fresh, slightly tart, and absolutely delicious.
5. Strongbow's Gold Hard Apple Cider
ABV: 4.5%
Most cider drinkers are familiar with Strongbow – but Strongbow's Gold Hard Apple Cider is on another level. Made with golden delicious and honeycrisp apples, this is a sweet and bright take on their classic product.
6. Crispin Cider Co.: The Saint
ABV: 6.9%
With an "orchard to bottle" mantra, it's no wonder this company brews some great ciders. Crispin Cider Co.'s The Saint is an unfiltered hard cider with apple-wine and pure maple syrup, which makes for a cloudy, sweet, and hearty sipper.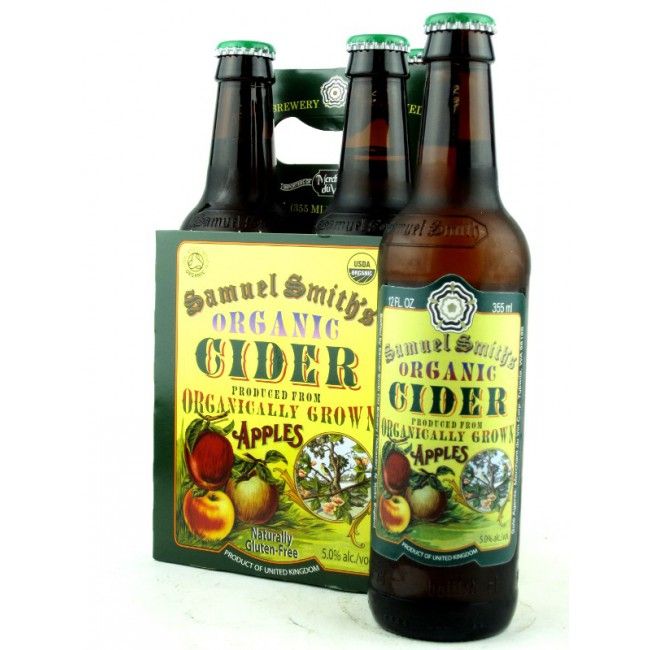 7. Samuel Smith's Organic Cider
ABV: 5.0%
As Yorkshire, UK's oldest cider brand, it's no wonder Samuel Smith's ciders are making a splash! Established in 1758, they've had 260 years of brewing experience! Samuel Smith's Organic Cider is an organic, medium dry cider with light body and clean apple flavor.
8. Woodchuck Raspberry Cider
ABV: 4.0%
As the "original American hard cider," Woodchuck's Raspberry Cider is a light and refreshing twist on the original cider brand that started the American cider revolution. It's definitely on the sweet side, but it's so delicious we insist you give it a shot.
Psst, if you're wondering about cider industry history, Woodchuck even has a Cider 101 History Timeline that dates all the way back to 55 BC!
9. Famille Dupont Organic Cider
ABV: 5.5%
Brewed on a beautiful French estate, it's no wonder Famille Dupont Organic Cider is so goodl. This beautiful organic cider is luxury in cider form. Without sugar and most definitely gluten free, you can feel great about drinking this cider at 65 calories a glass.
10. Brickworks Ciderhouse, Batch: 1904
ABV: 4.7%
Brickworks Ciderhouse, Batch: 1904 is a dry, tart cider created to commemorate the great Toronto fire of 1904 – and it's quickly becoming a classic Canadian cider.
Started by two friends who were experimenting with brewing during university, it took years of building up the courage for Chris and Adam to take the leap and start their company.
Free job application template for restaurants
Get hot restaurant tips. Delivered.