No, 90% of restaurants don't fail in their first year.
You don't have to be part of that statistic. There are so many things you can do to turn things around if your restaurant is losing money.
Since TouchBistro has 475+ years of collective restaurant experience under its own roof, we've put together a list of our best tips from our very own restaurant experts, including seasoned managers, owners, and chefs.
Here's how to avoid restaurant failure and turn things around for the better.
"The little things matter, and they can make a big difference. Shrink your portion sizes and serve food on smaller plates, so the size of your meals don't look like they've changed. As well, train your staff to upsell more effectively. Ask them to switch their wording from, 'Would you like dessert?' to 'Our chef just made some fresh apple crisp, which is so good with vanilla bean ice cream and caramel sauce. Would you like to try a slice?"
– Damon, 15 Years of Restaurant Experience
"I've always argued that it's not a good idea to start with cutting costs when your restaurant is struggling. I think it's more effective to reduce waste before you start cutting costs, because that's usually where you're really bleeding. Specifically check for waste in the following areas: food waste, linen and laundry, staff theft, and losing cutlery and glassware."
– David, 15 Years of Restaurant Experience
"I think a lot of restaurant owners don't appreciate the massive impact of great marketing. Guess what: your restaurant's story matters. You can start small by posting some signage on your door that explains the concept behind your restaurant and why you decided to open it. That way people passing by can develop a personal connection with your restaurant without even needing to walk in – and it'll get them talking about your food."
– Megan, 7 Years of Restaurant Experience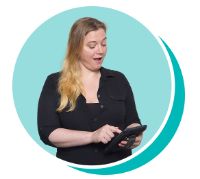 "This will be difficult to do when you're struggling, but focus on the things you love about your restaurant. Point yourself toward your restaurant North Star and walk that way. Be brutally honest about the time and money you're wasting on things you don't love – and focus on what matters to you and your customers. Businesses often fail because they tried to do too many things at once. Make a list of things to stop doing and do one thing better than everyone else. That one thing will lead you to success."
– Mel, 31 Years Restaurant Experience
"Make sure your manager is on the same page as you are about reducing costs. Align your priorities, whether it's cutting shifts when you're not busy or eliminating luxury expenses like linens and fancy toilet paper."
– Angela, 7 Years Restaurant Experience
"If you're not bringing in enough sales to turn a profit, have a grand re-opening that you blast on social media and try to spread the word of mouth. Donate gift certificates or coupons to a local charity. Partner up with a neighboring business for a special promotion. Offer incentives for people to follow your social media accounts. Do anything you can to get publicity and people will come."
– Erica, 20 Years Restaurant Experience
"Get involved in your community! The best way to get customers through your door is to go through theirs. Get involved with community events, social gatherings, or even local business meetings. Try flyering, sponsoring local school events, or hosting cooking classes at your venue. Community involvement publicizes your restaurant's name, and people will start to get to know the friendly faces who work for you."
– Christine, 13 Years Restaurant Experience
And if you're cutting costs, here's how you can go about it.
1. Food and beverage costs. Know your ideal or theoretical cost based on recipes. Work on narrowing the gap between actual cost and what your costs should be. Pro tip: Bottled beer is the easiest place to start because it has an easy cost to calculate and is the easiest thing to count in inventory.
2. Labor costs. Stack your staff during busy periods and cut when you're not producing revenue: those hours before opening, between lunch and dinner, and after closing. If you cut hours where you're busy, you risk reducing your sales by cutting into customer service – not a good idea.
3. Your combination of food/beverage costs and labor costs. These costs should not exceed 70%. If you're over 70% you're in real trouble. Don't think twice about raising prices or cutting costs if this combination exceeds 70% of your revenue.
4. If you're a QSR, check your disposables and consumables. Take-out containers, napkins, straws, and condiments will probably represent about four to five percent of revenue, so make sure you're ordering the right amount and not more than you need.
5. Once you've made the adjustments above, check smaller line items like smallwares (cutlery and service items), glassware, etc. Depending on the amount of revenue you generate every year, however, reducing the cost of cutlery and glassware by 10% may mean 0.02% profit for about the same amount of analysis and effort, compared to cutting product and labor costs. So just be sure to do this step last, because you could put hours into cutting these costs by 10% with very little ROI, compared to putting hours into cutting product and labor costs with very high ROI.

Remember, the #1 reason why restaurants fail is because of mismanaged financial strategy. Start by checking your profit and loss statement to gain a general sense of the health of your restaurant, then implement some of the changes we mentioned here where it makes sense.
Download our free inventory template
Get hot restaurant tips. Delivered.