A great restaurant employee handbook is the secret to a successful onboarding process.
An employee handbook serves as a valuable reference point for your restaurant's mission, values, policies, and more. And when you start with this information on day one, you set a positive tone for your work culture that can help reduce employee turnover in the long-run.
But if you've never had an employee handbook for your restaurant before, building one from scratch can seem daunting.
To help you create a handbook your staff will actually read, we've broken down all the essential elements. In this article, we'll deep dive into all aspects of the restaurant employee handbook, including:
What is an employee handbook
Why your restaurant needs one
Key sections to include
3 tips for writing an engaging employee handbook
Who should be involved in the creation of your handbook
A free, ready-to-use template to build your own handbook
Ready to get started?
Download our free template to get a customizable restaurant employee handbook sample!
What Is a Restaurant Employee Handbook?
When you hear the words "employee handbook," you probably think of a dusty old binder filled with cookie-cutter descriptions of the dress code or scheduling policies. While this may be the case at some restaurants, your employee handbook should contain a whole lot more than just information about what color shoes your servers should wear.
A good handbook should contain all your restaurant employee rules, policies, guidelines, and processes. Beyond the legal requirements, your employee handbook should also outline your mission statement and team culture to give employees a sense of what makes your restaurant unique.
The purpose of the handbook is to help everyone from servers to chefs understand what's expected of them and what they can expect from you as their employer. This is especially important during restaurant onboarding because it helps you promote a great culture from day one.
Why Do Restaurants Need an Employee Handbook?
Sure, an employee handbook is a great way to build a great culture, but that isn't the only reason you need one.
Some of the biggest benefits of creating a staff handbook include:
Legal Protection: Think of an employee handbook like insurance – it clearly spells out your policies and procedures. If problems pop up down the line, an employee handbook provides restaurant owners with a legal foundation to back up their claims. This kind of legal protection also applies to your employees, making everyone feel a little more secure.
Workplace Equality: An employee handbook clearly lays out the code of conduct for employees and employers. With everyone on the same page, it's more likely that managers and staff will treat one another fairly.
Greater Efficiency: A good employee handbook should provide answers to major FAQs. With all this information in one place, you can save your team from having to ask (and answer) the same questions over and over again.
Smoother Onboarding: It's easy for new hires to feel overwhelmed in their first few days on the job. A restaurant handbook paired with a great new hire checklist can help staff better understand their role, your restaurant employee rules, and what's expected of them.
All of these benefits can ultimately help to combat churn. As you probably know, the restaurant industry has a notoriously high turnover rate and, as 7Shifts found out through its Study on Restaurant Happiness, employees are more likely to stick around when a restaurant promotes better communication and training. And with the industry facing a massive labor shortage, having an employee retention strategy is more important than ever.
9 Sections to Include in Your Employee Handbook
Just like restaurants, each employee handbook is unique. Though most restaurant handbooks follow the same general structure, the information included in each category will depend on factors such as your restaurant size, location, or company culture, to name a few. For instance, a fine dining establishment may have an entire paragraph dedicated to table settings, while a pizza place may have a section on telephone etiquette for delivery orders.
To help you write an employee handbook that fits your restaurant, we've broken down eight essential categories to include. Keep in mind that important sections such as employee compensation and anti-harassment policies will need to be reviewed by an attorney to make sure your restaurant is in compliance.
To start filling in these sections right away, download our free template and follow along with our customizable employee handbook sample for your restaurant.
1. Introduction, Disclaimer, and Confidentiality
In this introductory section, start things off on a positive note by providing a brief history of your company and some key takeaways about the brand. You can even write this section in the form of a welcome letter from the restaurant owner or manager to give it a personal touch.
The introduction to your handbook should also come with a disclaimer that the handbook is not a legally binding contract but a document that demonstrates mutual understanding. If you don't include a disclaimer, an employee could sue you for breach of contract. Therefore, it's highly recommended that you consult with an attorney when writing this section along with a review of the whole document.
At the end of your introduction, it's also a good idea to address confidentiality. Explain that the information contained in your employee handbook, as well as other insider information, must be kept confidential.
2. Company Mission Statement and Core Values
Mission statements aren't just for Fortune 500 brands. If you run a restaurant, a mission statement can be a powerful way to convey why your restaurant exists and what you believe in (beyond serving great food). Remember, people want to work for companies that share their values, so this is your chance to get your employees on board with your vision.
Related to your restaurant mission statement, you should also outline your company's core values. List the values that matter most to you and explain how they apply to your employees. The idea behind these values is to give employees a sense of purpose and help them identify with your overarching objectives. For example, if one of your values is sustainability, employees should be mindful of minimizing their impact on the environment.
3. Code of Conduct and Workplace Behavior
While it may not be the most exciting section, the code of conduct is one of the most important sections of your employee handbook. This is where you explain how you expect your employees to behave and the standards they should adhere to. This section can include:
Dress Code
Smoking
Alcohol and Drugs
Weapons Policy
Cell Phones
Social Media
Employee Meals
Customer Service
Disciplinary Procedures
Of course, this is not an exhaustive list of restaurant employee rules. Every restaurant is different and you may want to include additional sections to fit your establishment.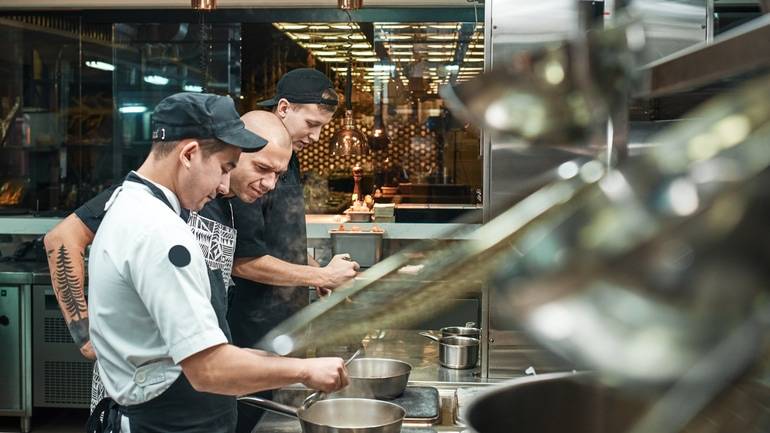 4. Procedures and Emergencies
This section of your restaurant handbook should cover every aspect of day-to-day restaurant operations management, including staff scheduling, safety, and sanitation. It should also cover what to do when daily operations are interrupted, such as in the event of emergencies.
This section can include:
Scheduling process
Attendance expectations
Timekeeping procedures
Meetings
Opening and closing
Requesting time off
Missed shifts
Serving alcohol
Comps and voids
Side work
Safety and sanitation
Reporting of workplace injuries
Emergencies
Theft and robbery
Health procedures and allergy protocol
Again, you'll want to consult an attorney when drafting this section to ensure that your scheduling procedures adhere to local, state, and/or federal laws.
5. Employee Compensation and Benefits Overview
This is the part that employees will probably pay the most attention to so so take your time with this section. Here, you should cover all aspects of restaurant payrolls and benefits, including:
Pay
Tips
Payroll deductions
Overtime
Leaves of absence
Holidays and vacation
Breaks
Employee meals and discounts
Benefits and insurance
Workers' compensation
This section can be tricky because employee compensation, benefits, and payroll can vary wildly depending on federal, state, and local laws. For example, some states require employers to pay tipped employees full state minimum wage before tips, while others don't. As a result, it's best to consult an attorney to make sure any compensation policies in your restaurant employee handbook are in compliance with local law.
6. Employment Policies
While there's room for creativity with some parts of your employee handbook, this isn't one of them. This section outlines important employment policies, including:
Equal employment opportunity statement
At-will employment
Accommodations for persons with disabilities
Leaves of absences
Family and medical leave
Personnel files
Keep in mind that many of these employment policies will vary depending on where your restaurant is located. Therefore it's absolutely essential to have an attorney review this section to make sure you are in compliance.
7. Anti-Harassment and Complaint Procedure
Though a sensitive topic, it is extremely important to have a section dedicated to harassment and discrimination so that employees feel safe and comfortable in the workplace.
This section should clearly state that your restaurant has a zero-tolerance policy when it comes to harassment and discrimination of any kind. Take the time to explicitly define what constitutes harassment or discrimination and then outline your official procedure for reporting complaints. You want your employees to know that you take this topic very seriously so make sure they know that their complaints will be received and acted upon.
Keep in mind that this topic can have serious legal ramifications and you should consult an attorney to review this section to ensure compliance.
8. Restaurant Systems FAQs
Think of this section as a how-to guide to all the tech used in your restaurant – especially your POS system. You should provide staff with information about all the major platforms they'll encounter, which may include:
POS systems
Kitchen Display Systems (KDS)
Online ordering apps
Reservations management platforms
Payment processing
Scheduling software
In addition to answering FAQs, you should also point staff to resources that can help to provide additional support. This can include everything from video tutorials to support lines. While this is no substitute for on-the-job training, this section can serve as a valuable reference point during employee onboarding.
9. Conclusion and Signature
Though your restaurant employee handbook is not a legal document, having an employee sign it demonstrates that they have read and understood all your rules, policies, and procedures.
However, your conclusion shouldn't be all business! You can also use this section as a space to remind your employees that you value their work and you appreciate all that they do for your restaurant.
Should Your Team Contribute to Your Employee Handbook and Resources?
When creating your handbook, keep in mind that it's not about you – it's about your team. Therefore, your team should have a say in the information that goes into the document.
When creating your restaurant handbook, consult with your senior staff to get their input and advice. As the people closest to your employees, they'll have the best insight into appropriate workplace behavior and procedures.
Another person who should definitely have input in your restaurant employee handbook is an attorney – preferably one that specializes in restaurants. Even though your handbook is not an employment contract, an attorney can ensure that the policies and guidelines in your employee handbook are in line with local, state, and federal laws.
This is important because labor laws can vary wildly across the country. For example, some states require paid sick leave, but others do not. If your policies are not in compliance with the law, this could spell big trouble later on.
Top Tips for Writing Your Handbook
While writing an employee handbook is one thing, writing one that employees actually want to read is quite another.
To sum up, here are our top tips for writing a page-turning restaurant handbook:
1. Focus on the Positives
When creating your handbook, be mindful of focusing on all the negatives. If your employee handbook is nothing but a long list of don'ts, employees' eyes will start to glaze over real quick – a situation that Chili's Bar & Grill found itself in just a few years ago.
Instead, focus on the positives and try to match the tone of your restaurant handbook with your brand. For instance, if you run a hip snack bar with a young, high-energy team, your training materials should reflect that.
2. Make Your Restaurant's Handbook Easy to Digest
Another tip to make your handbook a page-turner? Make it easy to read.
As studies have found, nearly 50% of millennials haven't read their employee handbooks. That means if you want people to actually read your restaurant's handbook, stick to plain English and leave out the complicated legalese.
3. Add Some Creativity
Just because your restaurant handbook is a formal document, doesn't mean you can't get a little creative with it.
Make your handbook engaging by adding some eye-catching design elements. This can include graphics and illustrations, as well as checklists and infographics. All of these design elements can help to break up the text and make the information more memorable. In fact, studies have found that people who consume information paired with an image will remember 65% of it three days later. Without an image? They remember just 10% of it.

While putting together a restaurant employee handbook may seem like a lot of work, you likely already have a lot of this information documented as part of your restaurant's human resources files – it's just a matter of bringing it together in one place. To help you get organized, download our free template and get cracking on your own restaurant handbook today.
Download your free employee handbook template
Free Resources for Restaurant Owners