Your restaurant can't just be a restaurant.
Your restaurant needs to be an experience.
Great restaurants survive because they create memories for their customers. If a restaurant has done its job, diners leave feeling great about the meal, the conversation, and an experience they'll share with friends.
So how do you go beyond serving a delicious meal to creating a memorable experience?
Tack on an entertainment experience that not many other restaurants are offering.
We surveyed 500+ frequent restaurant goers and found that 42% of Millennials said entertainment offerings influence their decision to eat somewhere.
In this article, we'll go over:
How entertainment impacts sales
Unique entertainment ideas
Real life examples of restaurants capitalizing on unique entertainment ideas
Get ready to wow your guests!
How Entertainment Can Directly Impact Sales at Your Restaurant
Sometimes offering great food just isn't enough – especially in such a competitive industry. You need something to help you stand out.
The three basic pillars of customer experience success in the restaurant business are:
Getting new customers to walk in the door
Making sure their experience is a good one
Getting these customers to return
Organizing and executing entertainment to accompany your meal service one a way that restaurateurs can address all three goals.
How?
Events attract new customers from ALL different walks of life, and areas of your city or town, which can help diversify your customer base and fill more seats.
Creative restaurant event ideas can also help increase your social media presence. Customers are more likely to post about a fun, exclusive event they attended to show off their VIP status or fun lifestyle, than they are to post about an ordinary trip to a restaurant. Plus, if you can collect contact info from diners before or during the event somehow (online registration maybe?), you can remind them to post after the event AND make it easier to do so. Include your handles, examples of what others are saying online, and even run a social media contest. If the event ends up being a smash hit, your restaurant might become Insta-famous!
If a restaurant entertainment idea is well executed, your customers should enjoy their experience, tell their friends (word of mouth marketing), post on social media, and return for a repeat experience. All of these benefits can help expand your customer base and your sales.
The trickiest part? Coming up with a killer idea!
Here are five entertainment ideas to boost the "wow factor" at your restaurant.
1. Arcade Games
Pinball machines, PAC-MAN, Tetris… if you're experiencing deja vu, it's because millennials want to play the arcade games of yore.
You might remember playing these classics when you were a kid, but a new generation of foodies think it's charming to step away from the HD for some retro fun. Toronto bar Get Well is well known for its array of great arcade games served up with some pizza and a great beer selection.
If you have the room in your restaurant, bar, or brewery, consider buying a couple of cheap arcade games from eBay to occupy your customers while they're waiting for their food. Who knows, they may stay longer – and order more drinks – just to get a high score.
2. Aerial Silks
Your capacity for aerial silks depends on the size of your restaurant, so only consider this idea if you have the space.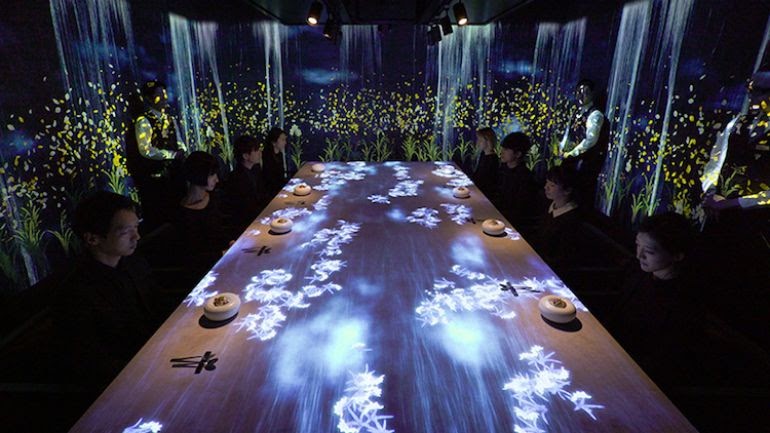 Aerial silks have become a popular form of entertainment in nightclubs and for special events. There's nothing quite like watching dancers fly through the air on two pieces of rope, seemingly on the precipice of death! The spectacle definitely won't be lost on your customers, who will be sure to walk away remembering much more than food.
3. Interactive Art
If you're a high end restaurant who's killing it with elite diners who have sophisticated palates, you may want to start to think beyond taste. A truly memorable dining experience taps into all five senses, and many restaurants are now incorporating otherworldly visuals and tantalizing smells into their courses to dazzle diners.
Tokyo's Sagaya restaurant partnered with teamLab, a digital arts agency, to create an immersive dining experience for their customers. According to teamLab, "when a dish is placed on the table, the scenic world contained within the dish is unleashed, unfolding onto the table and into the surrounding space. For example, a bird painted on a ceramic dish is released from the dish and can perch on the branch of a tree that has been unleashed from a different dish." The visual elements combined with the taste of the food offers customers a much more fulfilling experience beyond dinner.
4. Slam Poetry
Slam poetry communities have begun to thrive again, and they can draw large crowds to cafes and smaller restaurants with intimate settings. Great slam poetry invokes a sense of community between poets and listeners, giving your customers a lot to talk about over a meal.
If you do choose to host a slam poetry night, make sure to bring in some larger local names alongside some open mic time for newbies. Once you get a feel for the community, you may want to scale up and host slam competitions for regular performers. Your customers will develop a relationship with your poets in a way that will keep them coming back for more events.
5. Photo Booth
Simple, classic, and guaranteed to get you some love on Instagram. Like arcade games, retro anything is in style right now for a younger generation of people who grew up in front of screens. The classic photo booth Polaroid is a blast from the past that may, ironically, end up all over Instagram with your tagged location.
If your food is on point and you're looking for new ways to create a memorable dining experience for your customers, entertainment options are a great way to get people talking – and coming back.
6. Trivia Night
A mainstay for any college town, having a trivia night is sure to bring in the masses looking to show off their brains, and maybe reel in a prize.
How can you get people interested in a trivia night? Here are some ideas!
Local Celeb: Get a local celebrity to host the event, radio hosts, politicians, musicians could all help bring in customers.
Add a Theme: Creating a fun theme to base the trivia around could be a great way to join in on the hot trend of the day like hosting horror movie trivia near Halloween, or sports trivia close to the Super Bowl.
Offer Prizes: Everyone loves winning prizes. Offer coupons for meals at your restaurant custom winners pint glass, or kitchenware to fill seats and drive up the competition!
7. Mystery Menu Events
Don't know what you're getting served? How mysterious!
Loyal customers and adventurous foodies won't be able to resist a mysterious menu. Change up your menu for one night only to offer a three to five course tasting menu at a fixed price, and wow your customers when you unveil what's next. Everybody loves a surprise!
8. Wine or Whiskey Tastings
Cabernet Sauvignon Blanc or Pinot Grigio? Why not both!
If your restaurant has a considerable wine list, why not put it to work? If you're operating a bar, it's a natural fit for an event that's sure to please the crowd.
Allowing customers to sample the selection at a discount price is a great way to sell wine and feature wine and food pairings.
Whiskey tastings don't go quite as hand in hand with food pairings, but can still be carried out elegantly if a nice selection of whiskey, bourbon, scotch, and rye are offered. Whiskey tastings are also a great way to draw in the late night crowd!
9. Host a Live Podcast Recording
Podcasts are one of the world's fastest growing entertainment mediums. A hot trend within podcasts is hosting live recording events. These podcasts often will have a sizeable following, so any chance listeners get to see their favourites record a live show is a special occasion.
You can even sell tickets to the event ahead of time – consider giving some of the portions to charity!
All the podcasters really need is space to film, like a stage or a raised bar table with stools. They'll typically be able to bring all of the required equipment, like microphones and recording equipment.
You get a packed house and the podcasters get to show some fan appreciation by mingling with fans – everybody wins!
10. Games Night
Go straight to jail, do not pass go, do not collect $200…at least you've got chicken wings!
Stocking up on board games is a great way to bring in customers who are looking to entertain themselves while snacking on some good food. There are restaurants and cafes out there that offer game night every night! Food and games, the best pairing since wine and cheese.
11. No Phone Zone
One simple way to make your diners enjoy the company of one another is to ban phones! We aren't suggesting you lock their smartphones away and throw away the key, but you could turn this into a fun experience! Put a shoe box on the table, place the phones inside, and seal it with a strip of tape. If the tape is still sealed by the end of the meal, the diner's get a discount off of their meal. The discount will provide an incentive to get people through the doors and the gimmick will be a fun way to torment any millennials in attendance.
12. Fictional Food Nights
Ever wish you could sink your teeth into food from a tv show or movie that just looks too good to be true?
Not anymore! Offering a special menu that features some of the best from pop culture can be a fun way to bring in guests and get creative with switching up your menu. If you have the space, set up a projector so that your diners can eat a Big Kahuna Burger while watching Samuel L. Jackson dig into one in Pulp Fiction.
Here are some dishes from the hottest shows and films out there for you to pull inspiration from:
Krabby Patties (SpongeBob SquarePants)
Remy's Ratatouille (Pixar's Ratatouille)
Bluth's Frozen Bananas (Arrested Development)
Roast Beast (How the Grinch Stole Christmas)
Monica's Candies (Friends)
Big Kahuna Burger (Pulp Fiction)
Real Life Examples
Some restaurants have found huge success by turning entertainment into one of the focuses of their concept. Check out these examples!
Snakes & Lattes
With multiple locations in Toronto and Arizona, Snakes & Lattes serves delicious food and beverages alongside a library of 1,000+ board and card games available for guests to play.
Crocodile Lounge NYC
The Crocodile Lounge in New York City has experienced success by offering different forms of entertainment alongside their menu. They host weekly trivia events with prizes like bar tabs, shots, and dollar store pulls from the bag of mystery. They also host bingo nights and have a skeeball machine – entertainment for everyone!.
Emporium Arcade Bar
With three locations in Chicago, Emporium offers customers a full arcade experience along with serving great food and beverages. Guests can play billiards, air hockey, skee ball and a variety of arcade and pinball machines.
Fun restaurant entertainment ideas are crowd pleasers for so many reasons – they keep diners entertained and help you drive traffic! Entertainment for your restaurant doesn't the same for every business, and it doesn't have to break the bank. They can be simple and inexpensive, or large-scale and grand. If they help bring in new customers, ensure that they have a good time, and make them come back again, you can say your entertainment idea was a success.
Free Restaurant Cleaning Checklist
Subscribe to the TouchBistro Newsletter