So your bar is doing well. Your bar POS shows you that business is booming on Friday and Saturday, and there's a decent after-work crowd on Thursday too.
But wouldn't it be great to also be busy on the slower weeknights?
Great news: it's easier than you think!
Planning the right bar events can have seats full and bottles empty on any day of the week. In this article, we'll cover:
Why you need bar promotions
When to start planning
The 15 best event ideas for your bar
The right bar entertainment idea can bring in a ton of extra traffic, so let's dive in!
Why You Need Bar Events
There are a few times you can count on bars being a little busier: happy hour, patio season, payday, and weekends, to name a few.
But you can't run a business banking on people celebrating the end of the work week and a sunny summer.
This is where a great bar event comes in. Having events is key to driving traffic back to your bar on less busy days.
Besides extra traffic, there are a few more reasons you want to make bar events a regular occurrence at your restaurant:
Bar theme nights and events are a great way to stand out in a competitive industry. Every bar has drink specials and signature cocktails, so a unique event will break through the noise.
It's a great way to appeal to completely new audiences. Host events that appeal to everybody from sports teams to dance troupes, and meet a whole different group of customers.
Events give local press something to write about. Chances are, they aren't going to give a 2-for-1 beer special the same coverage as a one-night-only event.
Make sure to review your local liquor laws before throwing any events. Laws around drink specials, serving hours, and staff training all should be double and triple checked before hosting anything to keep your liquor license safe.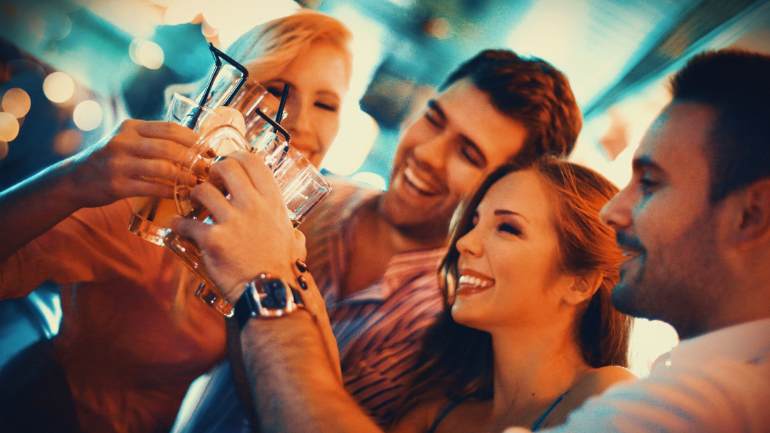 When to Start Planning Your Bar Promotion Ideas
Somewhere in between patio season and holiday season, you'll have to find a planning season.
Sitting down and planning an events calendar out in advance can minimize your stress when event time rolls around. But this isn't always possible in an industry that's so fast paced.
Start by planning a few events you know you want to have – like speed dating around Valentine's Day. Once you have a few solid events you know about, it'll be easier to slot in smaller ones around them.
Some bar events will also require more planning than others. While speed dating would require a little more advance planning – creating a signup page, finding somebody to emcee, and changing your table set up to accommodate people moving from spot to spot – a viewing party wouldn't require as much advanced work, besides confirming what channel you need for the show.
Generally, you'll want to give yourself a few weeks from planning to execution. This will give you enough time to plan the actual event as well as how to market it.
Use different methods of advertising and see what works best for you. You can try a mix of traditional methods – like radio spots and newspaper ads – and digital methods – like Facebook ads or email blasts.
After all, people can't attend events they don't know about!
15 Bar Event Ideas for 2023
Now you're ready for the fun part – it's time to start planning.
The key is to create a promotion that gets customers off the couch and away from their Netflix bingefest. If you're ready to boost your bar sales during downtimes, here are 15 fun and inventive ideas to try.
1. Trivia Night
The classic PubStumpers trivia game is a North American favorite for a reason: it's addictive! Simply signup and you'll get the PubStumpers kit which includes questions and answers for a twelve week season, game materials, and marketing tools. Or, you can create your own trivia night based on a unique theme your patrons love, pop culture, history, or a mix. Teams sign up and compete each week at your venue, vying for the final prize. Pair trivia with a menu and drink special and have your host include facts about your bar to teach your customers a little trivia of your own.
2. Viewing Parties
Watching television at the bar doesn't just have to be about sports. Think of all the popular shows that aren't so easy to stream from the comfort of home. The pre-show Oscars, anything with a cult-like following (think the uber-popular Game of Thrones), season or series finales, and throwback movies like Back to the Future or Pretty in Pink. Theme your beer or drink specials with the feature show or movie, and encourage patrons to dress up and really get into the spirit of things.
3. Board Game Night
Board game bars are popping up all over the country. It seems people love a rousing round of snakes and ladders with their buddies (and a beer or two). Provide unique games or host a Bring Your Own Board Games night. Make sure that the teams are enjoying your menu offerings with shareable plates and deals on draught pitchers.
4. Speed Dating
Provide people an escape from mindlessly swiping right with a speed dating event. Speed dating is one of the most iconic marketing ideas because people turn out for it. Set up your bar so that singles can rotate from seat to seat, chatting with a new potential partner every few minutes. Provide some sample questions – or drinks – to break the ice. You get to play Cupid and drive business. And who knows? In a few years, maybe you'll be hosting an engagement party for the couple that met speed dating at your bar!
5. Friendly Speed Dating
Speed dating doesn't have to be an awkward two minutes staring at a stranger's ugly tie. Instead of the normal speed dating, host a Get to Know Your Neighbors night instead. No forced romance necessary. This fun event has the announcer ask a lighthearted question such as, "If you could have dinner with one celebrity who would it be?". Then each person has to answer in sixty seconds to their temporary partner. Once the bell dings, it's time to move on to another partner and the next question is asked. It's a guaranteed way to have patrons stick around afterwards for another drink while they learn more about the people they've met and hear more about dining with Dolly Parton.
6. Group Meetup
Is there a popular social network in your locale that meets weekly? Offer to host them at your bar and offer a special group rate or drink specials for the event. It could be the local dog-lovers club, a popular sports team, or a career-networking group. Find them on meetup.com or by asking your regulars if they are part of a group that needs a regular home. You never know – you could be host to a slew of new customers!
7. Charity Night
Nothing says "reason to drink" like raising money for charity, right? Partner with a local charity and host a bar event dedicated to fundraising for them. Consider hosting a raffle or something more creative like charitable music bingo sponsored by your business. You can include a signature drink where proceeds are donated or have a cut of the money from the night as a donation. You can even have a representative from the organization come in so people attending know what they're supporting and split marketing efforts with your charitable partner. They have just as much to gain – if not more – from a successful night!
8. Host a Paint Night
What do you get when you cross brushes, canvas, and paint with customers in a bar? A room full of artists and bar tabs! Yaymaker pairs artists with your bar, and locals can find you and pay for their tickets via the website. The group is given canvas and paint and taken through the steps to create a scenic landscape by a local Yaymaker artist. All you need to do is top up drinks and shake up cocktails all night.
9. Open Mic Night
Open up your bar – and your ears – for all of the budding musicians in your area. A stage or cleared away area and a decent sound system and you're all set. Hopeful stars sign up and wait for their time to shine while family, friends, and fans fill up on food and drink. If you like, take it a step further and make it a six week competition. Each week there is an audience vote and elimination leading up to the last week when all finalists perform to compete for the final prize. The more participants want to win, the more people they'll bring in to vote for them. Votes for performers, more guests and checks for your bar.
10. Bar Olympics
Who can turn down a night of togas, competition, and beer specials? Set up games that people can enjoy and keep score – darts, pool, or foosball – or bring in some special games for the evening – like cornhole or video games. Start advertising early and people can sign their teams up for the event, which will help you know what type of traffic to expect. Tell Olympic competitors to keep score from each station. At the end of the night, hand out your gold, silver, and bronze medals! Make sure your staff are hyper aware of guest behavior so they can serve responsibly as competition heats up.
11. Stand Up Comedy
Everyone loves a good laugh, so why not provide the space for all of the jokers in town? All you need is a mic stand in the corner and a signup sheet. Get the word out around town and watch people pack in to get their giggle on all night long. Craft up your own funny cocktails and joke-themed eats to go with the comedic theme.
12. Bartending Show
You have a whole arsenal of talented bartenders on your staff. Why not use that talent as a starting point for an amazing bartending show? Have your best bartenders prepare to dazzle crowds with flying bottles or flaming drinks. Watch the crowds pour in to see – and taste – the delicious performances.
13. Tasting Event
Whether it's wine, beer, or mini cocktails, people love a drink sampler. Host an event – either indoors or on your patio – where you give the people what they want and offer one-night-only samplers. Have some favorites paired with completely new concoctions to drive traffic. If you want to add to the fun of it, have guests vote on their favorite drink from each sampler and add it to the menu as a limited time offering. And hey, if the new drink does super well, it can become a regular, chosen with love by your guests.
14. Participate in a Bar Crawl
This is a great one that requires a little less effort while giving you some great exposure. People who sign up for a bar crawl are given a list of bars to attend and drinks to try at each one, checking each location and drink off as they go. You can find holiday themed bar crawls – like Bunny Hop or Santa Crawl – or some just because. For a spooky bar crawl, you can take a look at restaurant Halloween ideas to gain some inspiration. Participating in bar crawls in your area means the pre-event planning is off your plate, but you can still expect a good boost in traffic.
15. Dance From the Past
A senior's sock hop, Sadie Hawkin's dance, or retro prom night can do wonders for business and boost morale for dancers that don't dance as often as they'd like. Pick a theme, ask guests to dress to match it, and make sure everyone brings a date. A DJ playing throwback hits and an old school menu to match will make your party a success.
It's not hard to boost business during your slow times with the help of some creative bar and restaurant promotion ideas. Plus, bar events can be a great way to meet and greet customers and put yourself out there as Celebrity Chef Vikram Vij likes to do. Give your regulars and new customers creative and fun events they'd hate to miss out on and you'll find your bar busy and bustling all week long.
Free social media templates for your restaurant
Subscribe to the TouchBistro Newsletter