Happy hour truly is the happiest time of day.
For customers, happy hour provides the perfect opportunity to unwind with friends and co-workers over discount pints and half-priced nachos. For restaurateurs, happy hour helps to get more customers in the door, get more orders in the bar POS, and gives the bottom line a nice little boost – it's win-win.
But just like mixing the perfect cocktail, you need the right ingredients to make your happy hour a success. Any restaurant can offer drink specials, but you have to deliver a great experience if you want customers to drop in during this time (and stick around for dinner).
To help you plan and pull off the perfect happy hour, we'll break down our recipe for success.
In this article, we'll cover:
What is happy hour
The benefits for your restaurant
How to plan a successful happy hour
Tips for boosting profits during these promotions
What Is Happy Hour?
First things first, let's address the question of "what is happy hour?"
No matter what you call it – beer o'clock, social hour, discount drinks, cost-effective cocktails – happy hour is that magical time of day when drinks and appetizers are discounted at many restaurants and bars. These discounts range from two-for-one deals to special pricing on select food and drink combos.
In terms of timing, it takes place in the late-afternoon and early-evening because it's the lull between the end of the workday and the start of the dinner rush. However, happy hour can take place at virtually any time of day (or night) depending on the type of restaurant you run.
But while this promotion has been the restaurant industry's secret weapon for quite some time, it's important to point out that some states are not too fond of this practice.
In states such as Alaska, Massachusetts, and Vermont, there are bans on the kind of alcohol specials normally associated with happy hour. If you're in a state with a ban on happy hour drinks, your promotion can focus on food and non-alcoholic drinks instead.
4 Reasons Why Happy Hour Is Good for Your Restaurant
Sure, it sounds like a great deal for customers – who doesn't like discount sliders and half-price well drinks?
But what's in it for you as a restaurateur?
While it might seem counterintuitive to offer discounts as a way to boost sales, happy hour can be the key to bigger checks during slow times of the day. Below, we dive into some of the major benefits of hosting this type of promotion at your restaurant.
1. Drive Traffic and Boost Sales
The biggest (and best) reason is that it's simply good business.
According to a 2018 Nielsen study, U.S. bars and restaurants generate 60.5% of their average weekly sales from happy hour – even with major discounts on the table. Moreover, the average happy hour check is $68.99, which is $8 more than the average check during other times of the day.
In addition to bigger check sizes, it's also a great way to bring more customers in the door during slower times of the week. As Nielsen reports, "Wednesday Happy Hour traffic is an average of 23.9% higher than other weekdays," making it the "fourth most valuable day part for bars and restaurants."
This surprising statistic reveals just how powerful it can be in boosting traffic during slow periods.
2. Upsell Orders
Part of the reason that happy hours can be so profitable is that they present a multitude of opportunities to upsell (the art of marginally increasing the cost of a customer's order).
In other words, just because the promise of a discount drink menu gets people in the door, it doesn't mean everyone ends up paying rock-bottom prices. Whether it's giving customers the option to get a bigger drink for just a dollar more or charging a little extra for a side of guacamole, upselling can be baked into this promotion.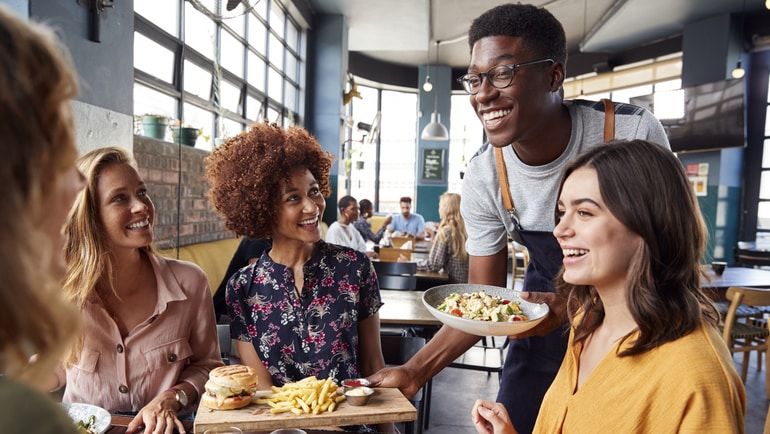 3. Acquire New Customers
There's no doubt that happy hour can be a great way to temporarily boost sales. But, it can also be a recipe for long-term success.
Instead of thinking of happy hour as a one-off event, consider it as an audition for your restaurant. These customers get a small taste of what your restaurant has to offer. If you do it right, you'll leave customers wanting more.
A way to ensure your new guests turn into loyal regulars is to offer a tightly-curated version of your regular food and drink menu. When exposed to your restaurant's mini espresso martinis or slider-sized lamb burgers, you increase the likelihood that guests will order the full portion in the future.
4. Generate Buzz for Your Restaurant
Generally, happy hour is not some mysterious affair that needs to be shrouded in secrecy – unless you run a speakeasy! On the contrary, this time is seen as a social event that can generate a lot of buzz for your business.
Using social media, table signs, and even word-of-mouth marketing, you can build brand awareness by promoting your happy hour drinks and food specials. According to TouchBistro's How Diners Choose Restaurants report, 80% of restaurant-goers will visit a new restaurant based entirely on receiving a discount or promotion.
In other words, don't underestimate the marketing power of a good happy hour deal (and a little FOMO).
7 Ways to Plan and Execute a Successful Happy Hour
It's clear that this promotion is a lucrative opportunity for your restaurant. But actually pulling off the perfect happy hour is a little more complicated than it might seem.
Though discount drinks are a consistent crowd-pleaser, a few bucks off a cocktail isn't always enough to draw in a crowd. As the National Restaurant Association found, customers see happy hour as much more than an opportunity to grab half-priced margaritas.
In fact, a whopping 43% see it as a great time to relax, while 23% use it as a way to connect with colleagues outside of the workplace. As Sociologist Ray Oldenburg explained in his 1989 book The Great Good Place, people have a need for a "third place" to relax outside of the pressures of home and work.
To make sure your restaurant becomes that third place, we've rounded up our top tips for success.
1. Know Your Customers
Before you start slashing cocktail prices or offering dollar beers, it's important to think about what kind of guests are already visiting your restaurant. By looking at POS reports and analytics, you can figure out what items sell well at different times of day. You can then create a happy hour special around popular, high-margin options.
For instance, your Sales by Menu Item report might reveal that your clientele is largely business people who prefer wine over beer and cocktails. With this information, you can then tailor your promotions to this audience by offering discounts on wine later in the day.
2. Experiment with Your Happy Hour(s)
Traditionally, these promotions take place during that sweet lull between the end of the workday and the beginning of the dinner rush. But while the post-work happy hour is classic, virtually any hour from could be a happy hour with a little bit of planning.
For instance, late-night happy hours have become a popular way for many bars and restaurants to bring in a younger crowd. As the National Restaurant Association reports, "More than half of consumers under the age of 35 make late-night restaurant visits several times a month, as compared to just a quarter of consumers over 35."
Moreover, 41% of those aged 21 to 34 say that specials like this play a key role in whether they visit a late-night restaurant. In other words, half-priced cocktails at 10 p.m. could bring in some younger customers (and their friends).
Of course, make sure you check your local and state laws before hosting this type of promotion – you don't want to end up losing your liquor license!
3. Offer Enticing Food Specials
Happy hour is traditionally associated with drink specials, but 41% of guests are actually drawn in by food. This means you need to go beyond a curated drink menu to ensure you attract a crowd.
Some of the different ways to include food are:
Creative Food and Drink Pairings: Pair different drinks with complimentary dishes for a special price.
Small Plates: Introduce new guests to your menu by offering small-plate versions of your most popular lunch and dinner entrees.
Shareable Snacks: Cater to bigger groups by adding shareable dishes to your menu during this time.
Try a Theme: Turn it into an event with a food and drink menu that follows a specific theme like Taco Tuesday or Monday Night Football.
As you test out different happy hour menus, remember to keep an eye on check sizes. Paying attention to this important metric will help you understand the popularity of each dish, how much customers are ordering, and the impact on your bottom line.
4. Include Non-Alcoholic Options
If your promotion only focuses on alcoholic drinks, you could be missing out on a huge part of the market.
Believe it or not, 40% of consumers worldwide are interested in decreasing their alcohol consumption for health reasons. Plus, the market for low- to zero-alcohol drinks is expected to grow by 32% between 2018 and 2022. This is a growing trend that's largely driven by health-conscious consumers who want to drink less without cutting into their social life.
To cater to non-drinkers and the "sober curious," you can sprinkle some creative mocktails in with your other drink specials. You can even create an entirely zero-proof happy hour menu – an option that's particularly great for restaurants operating in states that have banned these types of drink specials.
5. Prepare Staff
When it comes to pulling off a successful happy hour, your staff are a huge part of the equation. Not only should they know the specials inside and out, they should also understand the goal of your happy hour.
Are you trying to bring in new clients on a slow night or boost sales among your regulars? What about getting the after-work crowd to stay for dinner? Or do you want to attract a whole new type of clientele?
Every restaurant is different and it's important that your staff knows what your goal is so they can help you meet it.
Your front-of-house team is also the best way to spread the word about your happy hour specials. Encourage your servers and bartenders to tell customers about upcoming promotions. According to RetailMeNot, 70% of customers say a deal would make them more likely to dine out than eat at home, so make sure your guests know about deals that will keep them coming in.
6. Bring the Entertainment
With so many restaurants offering their own happy hour promotions, it can be hard to make yours stand out. Instead of offering rock-bottom prices, using entertainment like trivia or live music can make your establishment stand out.
While entertainment might seem like an added expense, it can play an important role in filling tables and increasing check sizes. According to research from the music licensing organization SOCAN and the research firm LEGER, half of Canadians say that "live music makes them likely to eat and drink more and invite their friends to join them."
If live music isn't an option, you can consider more unorthodox entertainment ideas. For instance, January and early February are generally slow months for restaurants, but it's peak dating season for customers. During these chilly winter months, you could host a singles-only happy hour and let customers break the ice with discount drinks.
7. Maximize Profits
Even if you have great food specials, fun entertainment, and a huge crowd, all that doesn't mean much if you're not making any money off your happy hour. Instead of simply counting the number of customers that come in the door, you should be paying attention to just how much they're spending.
Ensure that happy hour isn't draining your bank by using the following profit-maximizing strategies:
Upsell: Look for opportunities to encourage customers to spend a little extra, like making well drinks with specific liquor for just a dollar more.
Cross-Sell: Recommend complementary dishes or drinks from your regular menu to pair with your happy hour specials. For instance, maybe one of your pasta dishes pairs perfectly with your half-price bottles of wine.
Add Menu Modifiers: Add modifiers to your happy hour menu, such as extra sauces or sides, for a small fee.
Mix in Premium Items: Add a premium item like oysters to your happy hour menu to increase the perceived value of your promotion. This gives customers the impression that they're getting a great deal on high-end fare and encourages them to spend more.
Use Overstock Materials: Check your inventory and repurpose ingredients that would otherwise go to waste – think bruised veggies that can be used for soup.
Carefully Structure Your Menu: You can use many of the same menu design strategies for your happy hour menu that you use for your regular menu. For example, your happy hour menu can include decoy dishes or use bold font.
If you have a modern POS system, you can easily track whether your happy hour tactics are helping you turn a healthy profit. Thanks to business reports such as Sales by Order Types and the Drill Down Report, you can see whether strategies like additional menu modifiers are putting more change in your pocket.
Whether you opt for a post-work social hour or some late-night drink specials, happy hour is a great way to increase traffic and sales during untapped parts of the day. And if done well, you'll attract a whole new group of customers who stick around even when pitchers are full-price.
Cheers to that!
Free Restaurant Cleaning Checklist
Free Resources for Restaurant Owners