Why are you in the restaurant business?
What purpose does your restaurant serve and how is it different from your competitors?
Those are questions that your restaurant's mission statement should answer.
A restaurant's mission, vision, and values make up part of your brand's identity. They fuel business decisions while inspiring customers to frequent and employees to work for your restaurant. Creating a mission statement for your restaurant can help you think critically about your goals, beyond serving delicious food.
Crafting a restaurant mission statement that properly represents your restaurant's manifesto can be hard. These mission statement examples could help you find the right words.
In this article you'll learn:
What a restaurant mission statement is
The difference between a restaurant mission statement, vision statement, and values
Why your restaurant needs a mission statement
How to craft a mission statement
Examples of mission statements from all kinds of restaurants
Mission control, ready for blast off?
What Is a Restaurant Mission Statement?
A mission statement explains why your business exists. Therefore, a restaurant mission statement explains why your restaurant exists. Your mission statement should explain what purpose your restaurant serves. It should also match your brand voice and aesthetic, and align well with any restaurant slogans or taglines that you use.
Mission statements originally come from the nonprofit world. For instance, in the U.S., nonprofit organizations must have a mission statement that guides everything they do. For-profit businesses have adopted the practice of creating a mission to create a stronger sense of business focus and brand alignment.
Mission statements are often matched with company values and/or a vision. Together, a mission, vision, and values describe what your restaurant stands for. In other words, they collectively serve as a compass for your business, guiding you towards your north star – the goals that you hope to achieve through your restaurant.
What's the Difference Between Your Mission, Vision, and Values?
Mission, vision, and values can easily get mixed up – and are sometimes used interchangeably.
However, there are distinctions between the three. Here's a quick guide to differentiating them, accompanied by restaurant mission statement, restaurant vision statement, and restaurant value statement examples.
We'll be referring to a fair trade coffee shop we made up (let's call it Philly Fair Trade Coffee Co.) in all of our examples to showcase how its values statement, mission statement, and vision statement would vary.
Restaurant Mission Statement
A restaurant's mission statement explains why your restaurant exists and what you believe in.
Example: Serve Philadelphians the best cup of coffee they've ever had while supporting fair trade coffee practices in Costa Rica.
Restaurant Vision Statement
A restaurant's vision statement (a.k.a. credo) describes what the future will look like when you accomplish your mission.
Example: We imagine a world where there's no such thing as a bad cup of coffee and all coffee farmers live prosperously.
Restaurant Value Statement
A restaurant's values statement describes what you believe in and what your business stands for.
Example: Our values include providing fair wages for workers, giving back to the communities we work with, and serving great coffee.
Some restaurants establish a mission, vision, AND values, while others just create one of the three. Even just one statement will help give larger purpose to your work.
While some restaurants make their purpose public by publishing them on their website or placing them on signage throughout the venue, others keep their goals internal. Whether or not you decide to publish your values, mission, or vision, let them guide you and your staff in their decisions.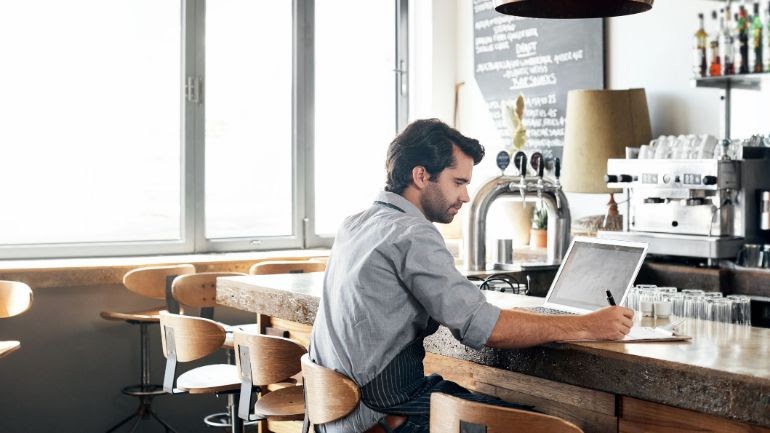 Why Your Restaurant Needs a Mission Statement
When you're a busy restaurateur, it can be easy for bigger picture tasks – like creating your mission statement – to be pushed aside in favor of day-to-day operations.
But taking the time to develop a mission statement for your restaurant can save time in your daily tasks and guide business decisions. Here's why your restaurant needs a mission statement.
1. A mission statement gives your leadership team and employees direction.
A mission, vision, and values are your restaurant's guiding principles and an important piece of your restaurant business plan. They help you make sure your business decisions – from your logo to your vendors – are strategic and align with your goals. When your restaurant has a clear mission, every decision you make should support your larger purpose. When faced with a business decision, ask yourself, "does this serve my mission?" If yes, then go for it. If not, then look for an alternative.
Let's revisit the sample restaurant mission statement from our coffee shop example to illustrate how you could use a mission to influence business decisions. Philly Fair Trade Coffee Co.'s mission is to "Serve Philadelphians the best cup of coffee they've ever had while supporting fair trade coffee practices in Costa Rica."
The owner of Philly Fair Trade Coffee Co. looks at his POS reports and decides that he needs to cut overhead costs. One of his options is to get coffee beans from a cheaper – but still fair trade – supplier in Costa Rica. He samples coffee produced by the new vendor and realizes that the quality of the coffee is not on par with that of his original, more expensive supplier. Since his cafe's mission is to serve the best cup of coffee, and switching vendors would not further his mission, he wouldn't switch suppliers. He would have to find another way to cut costs, like reducing business hours or finding new vendors for paper cups.
2. A mission differentiates you from the competition and makes the restaurant experience about more than just food.
A mission statement gives your customers something to stand behind.
From our example, when customers frequent Philly Fair Trade Coffee Co., they know that their cup of coffee does more than just give them a caffeine boost. It also supports coffee farmers in Costa Rica.
People show what they value based on where they spend money. While a cup of coffee from Dunkin' Donuts ("Everything we do is about you") and Philly Fair Trade Coffee Co. could taste similar, they support very different goals.
When customers know what their favorite restaurants stand for, they can deliberately choose to do business with places that share their values and support their community.
3. A restaurant mission statement can help you hire the right talent.
Making your mission public can help you attract employees that fit your restaurant's culture and vision for the future. If you keep your mission statement internal, it can help you hire people who share your principles.
Let's say that Philly Fair Trade Coffee Co. was interviewing two experienced candidates for a barista position. All else being equal, the owner should hire the candidate who is better aligned with the coffee shop's mission of serving the best cup of coffee and supporting fair trade coffee practices in Costa Rica. An ideal candidate would be someone who has demonstrated a passion for coffee or fair trade farming. Maybe they have even traveled to Costa Rica or another coffee producing country.
Your restaurant's mission statement is more than just a few words strung together. It's the basis for your business decisions, the differentiator between your restaurant and its competition, and your manual for hiring talent.
How to Craft a Mission Statement
There's no exact formula for creating a mission statement, or a governing body that decides what counts as a mission statement and what doesn't! You'll see in the examples below that some restaurant mission statements are very short (just a few words) while others are a few sentences long. Have fun with it and focus on what makes your restaurant unique.
Here's a very simple restaurant mission statement template to help you get started:
Our mission is to (verb).
Example:
Our mission is to make customers happy.
Our mission is to share our family's authentic Sri Lankan recipes with the world.
For a more actionable mission statement, feel free to include your values:
Our mission is to (verb) by (value one), (value two), and (value three).
Example:
Our mission is to be the most sustainable restaurant in New York by sourcing our ingredients locally, supplementing produce with herbs grown on our rooftop garden, and giving back to the community through urban farming education.
Our mission is to give our customers a place to celebrate life's special moments by offering the best food, service, and ambiance in Toronto.
Still unsure where to start? Here are some questions to ask yourself as you craft your mission statement:
Why does my restaurant exist?
What are my restaurant's goals?
What do I believe in and how does my restaurant further those values?
What makes my restaurant different from its competitors?
Your mission statement can be as simple or as complex as you'd like it to be, as long as it expresses why your restaurant does what it does and can guide your business decisions.
14 Restaurant Mission Statement Examples to Get You Started
We've rounded up the best sample restaurant mission and vision statements from actual restaurants, ranging from international fast food chains to Michelin Star fine dining establishments. You'll be inspired and crafting your own mission statement by the end of the list.
Fine Dining Restaurant Mission Statement Examples
1. noma
"At noma, we wish to offer our personal rendition of Nordic gourmet cuisine with an innovative gastronomic take on traditional cooking methods, fine Nordic produce and the legacy of our shared food heritage. Moreover, we regard it as a personal challenge to help bring about a revival of Nordic cuisine and let its distinctive flavours and particular regional character brighten up the world."
2. Del Frisco's Restaurant Group
"Do right and far exceed expectations daily. We do the right thing and lead by putting people first. Each and every connection with our team, guests and shareholders is our opportunity to create an experience that FEEDs – Far Exceeds Expectations Daily – and show how much we care."
Family Style Restaurant Mission Statement Examples
"To create an environment where absolute guest satisfaction is our highest priority."
4. P.F. Chang's
"Celebrate Life. Family. Food."
Bar/Grill Mission Statement Examples
"Our mission is to WOW people every day!"
"Quality. Passion. Pride."
Pub Mission Statement Examples
"Inspire loyalty in both our guests and in our staff."
"Stiff drinks, hearty food and a convivial place to gather and debate the news of the day."
Fast Food Restaurant Mission Statement Examples
9. McDonald's
"McDonald's brand mission is to be our customers' favorite place and way to eat and drink."
10. Dunkin' Donuts
"Everything we do is about you. From chefs who create exciting new flavors, to crew members who know exactly how you want your drink – we prioritize what you need to get you on your way. We strive to keep you at your best, and we remain loyal to you, your tastes and your time. That's what America runs on."
Cafe Mission Statement Examples
11. Starbucks
"To inspire and nurture the human spirit – one person, one cup and one neighborhood at a time."
12. Saxby's Coffee
"Make Life Better."
Fast Casual Restaurant Mission Statement Examples
13. Sweetgreen
"Our mission is to inspire healthier communities by connecting people to real food."
14. Chipotle
"Food with integrity"
There's no right or wrong way to write a restaurant mission statement. Start with your restaurant's reason for existing and get creative from there. When you stick to your mission, your restaurant becomes about so much more than just the food you serve – you stand for something that people can believe in.

Free social media templates for your restaurant
Subscribe to the TouchBistro Newsletter