You've probably heard of DoorDash, but you might be asking yourself, "what is DoorDash Drive?" DoorDash Drive gives restaurants a simple way to offer delivery without having to manage their own fleet of drivers.
Demand for delivery has surged in recent years, making it nearly impossible to run a viable restaurant without offering this fulfillment option. Delivery's popularity largely soared due to the pandemic. During this time, the four top food delivery platforms saw their revenue increase twofold – to $5.5 billion – during this time. Yelp found that even as diners returned to restaurants, delivery demand had nearly doubled since 2019 levels. In other words: delivery is here to stay.
Delivery gives customers more ways to dine and makes it possible for them to eat what they crave without having to leave the comfort of their homes. Of course, managing an in-house fleet of drivers can be a lot of work, which is why DoorDash Drive is an excellent option for restaurants.
In this guide to DoorDash Drive, you'll learn:
What is DoorDash Drive
The benefits of using DoorDash Drive
How the TouchBistro Online Ordering and DoorDash Drive integration works
How to get started with TouchBistro Online Ordering and DoorDash Drive
What is DoorDash Drive?
DoorDash Drive is a non-branded, white-labeled delivery solution that lets restaurants offer delivery from their own websites by tapping into DoorDash's network of delivery drivers, also known as Dashers. DoorDash Drive gives you the benefits of having an in-house fleet of drivers, without the hassle of hiring and overseeing them. In short, Dashers handle the logistics and delivery for you.
So, what's the difference between DoorDash and DoorDash Drive? Unlike accepting orders directly through DoorDash, DoorDash Drive orders come through your online ordering system for restaurants, instead of through DoorDash's platform. Another major distinction between DoorDash and DoorDash Drive is that the latter doesn't charge a commission fee. Instead, you pay a flat delivery fee that you can pass onto your customers.
If you use TouchBistro POS and you're hoping to offer delivery this way, you need to integrate DoorDash Drive with TouchBistro Online Ordering. This seamless integration means you don't need a separate tablet or interface to manage all your DoorDash Drive orders. Plus, customers interact with your website rather than with DoorDash to place an order, so you aren't competing with other restaurants on the DoorDash platform.
With DoorDash Drive, your customers also enjoy the convenience of being able to place an order to be delivered as soon as possible, or schedule a delivery for later.
What are the Benefits of Using DoorDash Drive?
DoorDash Drive is a great alternative to hiring and managing your own fleet of delivery drivers. Now that you know what DoorDash Drive is, here's a closer look at why it's beneficial to use.
Speedy, On-Demand Delivery
With this solution, you have access to the extensive Dasher network whenever you need to provide fast and easy delivery to your customers. DoorDash drivers cover more than 4,000 cities in the U.S., Canada, and Australia, which means there will be Dashers ready to go virtually wherever you need them.
Not to mention, three in four DoorDash Drive ASAP orders arrive within 30 minutes and receive an average customer rating of 4.5, which means you can enjoy the peace of mind of knowing your customers are in good hands.
No Commission Fees
With DoorDash Drive, you can eliminate in-house delivery costs and pay a flat fee per delivery with no signup, subscription, or hidden fees. The program charges a flat $7 USD or $8.50 CAD fee per order. You can then choose to pass some or all of your delivery fees on to diners to strike a balance between happy customers and healthy margins.
Seamless Integration with Your POS
When you integrate your POS with DoorDash Drive, all the information from online orders flows directly into your POS. This connection lets you manage incoming DoorDash Drive orders and coordinate outgoing orders entirely from your POS, which means you'll have less clutter on your countertop.
The seamless integration also means you'll also get access to reports about deliveries fulfilled by DoorDash Drive in your POS. These reports take the guesswork out of running a restaurant by giving you access to more business and customer data so you can make the right business decisions, faster.
A Better Delivery Experience for Customers
With DoorDash Drive, your customers can plan around their busy schedules by either placing orders for immediate delivery or scheduling them for later. So, if someone forgot to bring their lunch to work, they can get food delivered from your restaurant as soon as possible. Or, if someone wants an order to arrive after the kids get home from school without having to think about it in a few hours, they can choose a later delivery time.
Another benefit of DoorDash Drive is that diners pay online – with no surprise fees – for a completely contactless experience. Customers can also track their order status in real-time so they're always in the loop.
Smoother Operations
Scheduled DoorDash Drive orders aren't only convenient for diners. They also help your restaurant manage its workflow. When some of your restaurant's demand is predictable, you can run your business more smoothly. Predictable operations also make it easier to staff your restaurant, which can help to keep labor costs to a minimum.
Hassle-Free Delivery for Restaurants
DoorDash Drive makes it possible to offer restaurant delivery service without the hassle of hiring and managing a fleet of drivers. You don't have to think about putting out job postings, interviewing candidates, training new hires, adding them to payroll, or insuring and maintaining delivery vehicles. DoorDash Drive takes care of all of this for you while giving you control over your branding and the customer experience with white labeling.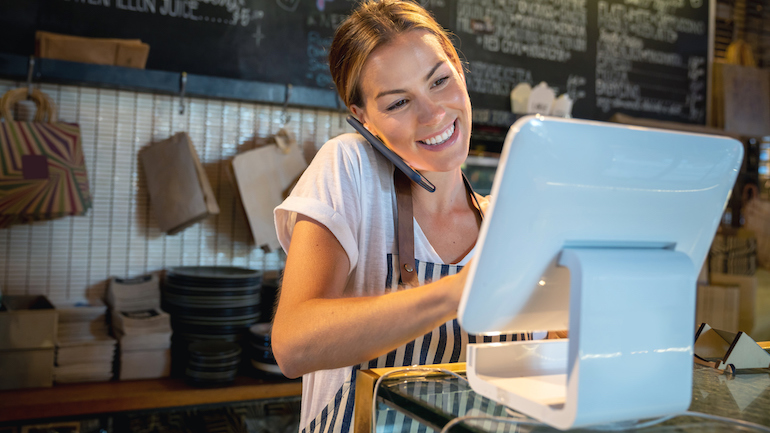 How Does the TouchBistro Online Ordering and DoorDash Drive Integration Work?
TouchBistro Online Ordering integrates with DoorDash Drive so you can get your deliveries from door to door with ease, for one flat fee per order. Here's a detailed look at how that integration works.
1. Customers Order From Your Restaurant
First, customers place an order through your TouchBistro online ordering system directly from your restaurant. Because of DoorDash Drive's white labeling, the ordering experience will look the same as any other direct online ordering experience on your website.
Customers select which dishes they want, then choose whether they want to pick up the order or have it delivered. If they choose delivery, it will be fulfilled by DoorDash Dashers. Your customers can choose immediate delivery or schedule delivery for a later time.
Then, customers pay for their orders online. You can choose to pay DoorDash Drive's delivery fee in full, in part, or pass it on completely to your customers.
TouchBistro's 2023 Dining Trends Report found that fees are the biggest deterrent when it comes to placing delivery orders. Diners expect to pay the price they see on the menu. Then, when taxes, delivery fees, and other convenience fees are added on, the total isn't what they expected, which can lead some customers to abandon their orders. For restaurateurs, this means that absorbing even a portion of these fees can make a big difference in attracting customers. 
2. Your System Dispatches Delivery Drivers
After an order is placed, TouchBistro Online Ordering connects with DoorDash delivery logistics and a Dasher is automatically dispatched to your venue. If there are any issues as the Dasher is en route to your restaurant, DoorDash handles them so you can focus on running your business and fulfilling more orders (instead of managing drivers).
After a Dasher picks up your customer's order, they're on their way to deliver it.
3. DoorDash Handles the Logistics
Once the delivery is in the Dasher's hands, DoorDash takes care of confirmation texts, estimated times of arrival, and a delightful delivery experience. Diners can track the status of their orders in real-time through the DoorDash portal so there's no question about when it will arrive. Delivery customers get a link to this portal in the order confirmation email and a text message if they provide their phone number during checkout.
Everything, after you make and package up the food, is taken care of so there's nothing left to think about after an order leaves your restaurant!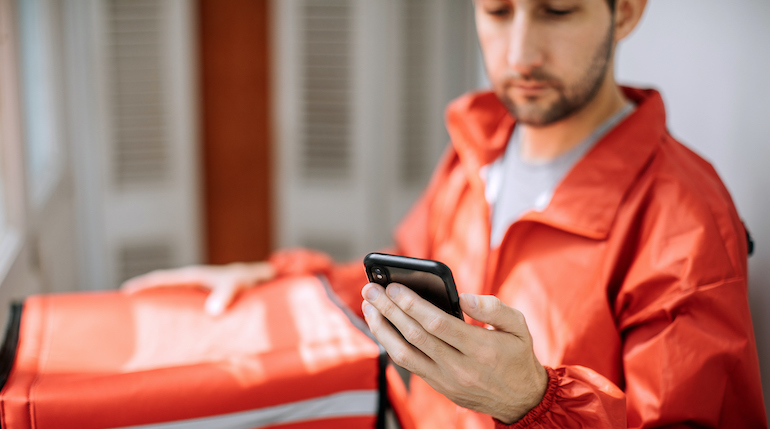 Requirements for DoorDash Drive via TouchBistro Online Ordering
If you're interested in using TouchBistro Online Ordering and DoorDash Drive at your restaurant, here's how you can get started, depending on which products you have or don't have. These are the requirements for DoorDash Drive.
If You Already Have TouchBistro Online Ordering…
If you already use TouchBistro POS and also have TouchBistro Online Ordering and TouchBistro Payments, all you need to do is integrate DoorDash Drive through the TouchBistro Cloud. According to Chris Frechette, Owner of B'Spoke Kitchen + Market, "Launching with TouchBistro Online Ordering and DoorDash Drive [can be done] all at once. It was just a flick of a switch, really. It was all automated and very easy." Follow these easy steps to get started. 
If You Already Have TouchBistro POS…
If you're a TouchBistro POS user but don't have TouchBistro Online Ordering or TouchBistro Payments, you'll need to purchase both of these products before integrating TouchBistro with DoorDash Drive through the TouchBistro Cloud.
If You Aren't a TouchBistro Customer…
If you aren't a current TouchBistro POS customer, the first thing you'll need to do to access DoorDash Drive is purchase TouchBistro POS. Then you'll need to add licenses for TouchBistro Online Ordering and TouchBistro Payments. After you've done that, you can follow these steps to integrate TouchBistro Online Ordering with DoorDash Drive.
Wrapping Up: What Is DoorDash Drive?
DoorDash Drive makes it easy to offer customers the convenience of delivery without the headache or costs of hiring and managing an in-house fleet of drivers. Best of all, TouchBistro Online Ordering customers can integrate DoorDash Drive via the TouchBistro Cloud in just a few steps. If you're not a TouchBistro customer yet and want to take advantage of DoorDash Drive, book a demo today!
Free online ordering signs for your restaurant
The right POS should help you increase sales