Your restaurant floor plan design is essentially a map of your restaurant's physical space. When designed well, your restaurant floor plan can affect your profit margins by increasing efficiency, creating ease of movement, securing the safety of your staff and guests, and ultimately enhancing your customer experience.
But in the wake of the COVID-19 pandemic, a well-designed restaurant floor plan looks a whole lot different than it used to. In order to accommodate social distancing and limits on venue capacity, virtually every restaurateur is adjusting their floor plan in some way. Whether it's removing tables, creating a designated takeaway space, or even installing physical partitions, changing your restaurant floor plan is an essential part of the reopening process.
Whether you run a fast casual joint with just a handful of tables or a fine dining venue with more than 100 seats, there's a lot that goes into adjusting a restaurant floor plan. To help you navigate these changes, this article will cover:
What is a restaurant floor plan and why you need one
How to make changes to your floor plan for reduced capacity and social distancing
How to use software to properly manage your floor plan
What to consider when designing your restaurant floor plan
15 restaurant floor plan examples to inspire you
Whether these changes are temporary or permanent, your restaurant floor plan is something you'll refer to on a daily basis, so it goes without saying (but we'll say it anyway) that it's worth spending some time and money on it.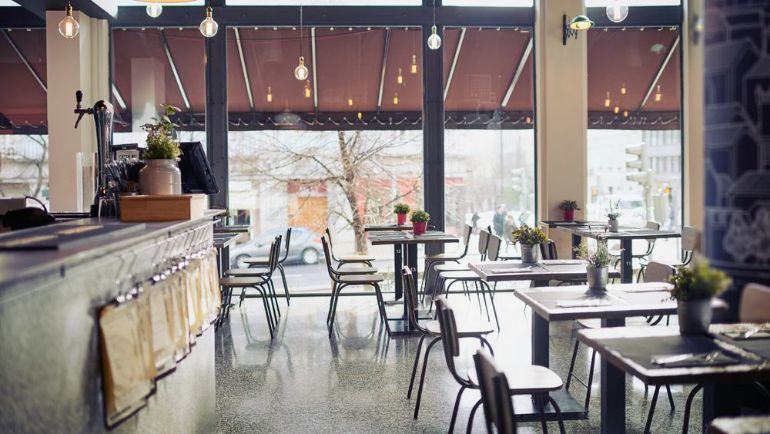 What Is a Restaurant Floor Plan and Why Do You Need One?
A restaurant floor plan is a blueprint that illustrates the distance and relationships between the rooms and physical structures of your restaurant space.
Restaurant floor plans denote the locations of fixtures like furnaces, sinks, boilers, and plug sockets. Occasionally, they will also include annotations on which materials are used to build parts of the space and how parts of the space are built.
Your architect or interior designer will draw up your restaurant floor plan. You can also use online software to help you design your own.
A well-designed floor plan will include:
Walls and hallways
Closets and storage spaces
Lavatories
Windows and doors
Set fixtures and appliances such as hobs, refrigerators, boilers, etc.
The purpose of each room / space
Interior design features such as fixed shelving, worktops, bars, etc.
Other important items in your restaurant's space
A well-designed floor plan will serve to:
Increase efficiency and workflow
Help you stick to your budget as you build your restaurant
Help you train your staff to work as cohesively and efficiently as possible
Your restaurant floor plan is also important for operational flow. This refers to all the foot traffic in your restaurant, including where deliveries are picked up, how chefs move around the kitchen, where servers pick up orders, and more.
A well-designed floor plan can properly direct this foot traffic to prevent bottlenecks or overcrowding. In the wake of COVID-19, it's particularly important to address operational flow in your restaurant to account for concerns such as physical distancing between diners and staff.
How to Adjust Your Floor Plan for Reduced Capacity and Physical Distancing
Depending on the current layout of your restaurant, accommodating physical distancing and new limits on capacity may mean making major changes to your floor plan. Below are some recommendations for how to adjust your current floor plan to make your restaurant safe for reopening.
Adjusting Your Physical Space
Physical distancing – also called social distancing – requires keeping customers at least one metre apart from staff and each other. To keep this kind of generous separation between diners, you'll need to make physical changes to your space and restaurant seating, including:
Moving tables further apart and away from high-traffic areas such as lavatory and service stations
If tables cannot be moved, consider blocking off every other table or installing plexiglass partitions between booths
Remove bar seating or create a physical barrier between guests and the bar
Making sure furniture is arranged in a way that it is easy for staff to sanitise between seatings
Remove any unnecessary decor or tabletop items (e.g. vases, condiment bottles, etc.)
Consider assigning designated entrances and exits to limit face-to-face exposure
Create designated a queuing area outside of the restaurant to prevent overcrowding in entrances or bar areas
If you're offering takeaway and delivery, move your pickup area away from the dining room
Remove buffets and other communal food stations
Install hand sanitising stations in high-touch areas such as near entrances and lavatories
Create a designated space for employees to change clothes and put on PPE
Use signage or floor markers to set expectations and direct the flow of foot traffic
In some cases, you may even want to assign a staff member to direct the flow of diners and monitor capacity levels.
Leveraging Software
While moving or eliminating tables can help to keep diners apart, software can give you a more accurate way to manage capacity. You might even be using some of these software features already.
If you use a modern EPOS system in your restaurant, you probably have access to table management software. For instance, TouchBistro's EPOS is equipped with a handy floor plan maker. With this software, you can digitally redesign your floor plan to match your new physical space.
If this isn't an option, you can block off certain tables by assigning them to a fictional staff member (e.g. someone named "BLOCKED") or by only allowing staff to seat even or odd table numbers. No matter which method you choose, table management software helps staff keep track of where diners can and cannot be seated.
In addition to managing where people are dining, you also need to control when they're dining. This is where an online booking system comes in.
With an online booking system, each guest is preassigned a table for a specific time period. This allows you to anticipate which tables will be taken and for how long. You can then use the software to stagger seating times so that the space can be sanitised between parties. Having preassigned turn times also helps you maximise revenue by allowing you to squeeze in the maximum number of tables per service without worrying about logistics.
For example, you could schedule all of your odd numbered tables for two-hour seatings at 18:00, and all your even numbered tables for two-hour seatings at 20:30, with enough time for staff to clean in between.
Communicating Changes to Diners
Once your staff have a handle on the new floor plan and how to manage the flow during service, it's important to make sure your customers are on the same page. To set proper expectations with diners before they arrive at your restaurant, make sure you get the message out there by:
Updating your website and your profile on reservations and online booking systems platforms such as tbdine.com/gb
Sending information along with reservation confirmation emails
Sending SMS texts to diners answering any questions or concerns
Remember, this is a whole new experience for customers and the more you do to address their concerns in advance, the smoother their visit will be.
6 Things to Consider When Designing Your Restaurant Floor Plan
Now that you know the what and the why, let's get into the how.
You'll need to consider a few things as you plot out your restaurant floor plan to make sure you won't have to back track once you begin making decisions.
1. Building codes
Look into your council's building codes to make sure you're accounting for requirements like emergency exits, adequate lighting and ventilation, occupancy, and more.
2. Accessibility
At the bare minimum, you need to follow requirements laid out in The Equality Act 2010, as well as any council-specific standards of accessibility. You'll need to make reasonable accommodation for individuals with accessibility needs, such as incorporating a wide enough space for customers using wheelchairs to access your lavatories.
3. Profitability
Dig out your business plan and get ready to do some math: you'll need to figure out how many people your restaurant will hold so that you're meeting your profitability requirements.
4. Efficiency
Every aspect of your restaurant floor plan should be designed to improve workflow and efficiency between front and back of house. Your inventory should be able to move easily from the delivery truck into storage and then through prep, cooking, and plating. Your serving staff need a clear path from the kitchen to (and through) the dining room so they can deliver orders quickly and safely.
5. Aesthetic and Ambiance
Your aesthetic and ambience are where your restaurant floor plan intersects with your brand experience. Refer back to your business and marketing plans to make sure your interior décor and design reflect your concept, brand identity, and current trends. Those documents should influence colour schemes, furniture choices, and every other decision you make.
6. Safety
Working in a restaurant can be dangerous and the safety of both your staff and customers should be top of mind. On the one hand, you should be creating a hazard map that identifies any areas that might cause injuries. Additionally, you also need to consider invisible hazards such as the transmission of infection. In light of COVID-19, that means considering additional safety measures such as leaving enough space for social distancing, tapping arrows on the floor to direct the flow of foot traffic, and following government mandates on capacity limits – just keep in mind that some of these rules may differ based on where your restaurant is located.
Hiring a Professional to Help with Floor Plan Design
Hiring a professional to assist you in the process of creating your restaurant floor plan is often a very worthwhile investment – especially if you're undergoing major construction
But where do you turn?
Both architects and interior designers will bring the following to the table:
A skilful and knowledgeable approach to space planning
Comprehensive and up-to-date knowledge of your state's building codes and regulations
Professional-grade design software and knowledge of how to use it
An inherent creativity that can guide you to new ideas or new ways of looking at old ideas
Foresight and problem-solving skills gained through trial and error, and past experience
Connections with manufacturers
A thorough understanding of building materials, finishes, furnishings, and building methods
Architects vs. Interior Designers
The main difference between architects and interior designers is that architects are trained to understand the entire structure of a building, while interior designers are focused on the – you guessed it – your restaurant interior design.
If you're building a restaurant from the ground up, you'll likely want to consider working with an architect. If you're designing a restaurant within an existing building structure, you can work with either one.
Do-It-Yourself Options
Feeling especially handy? Kudos.
Here are a few of the best restaurant floor plan software options that can help if you're determined to design your floor plan yourself:
CAD Pro: One of the most widely-used restaurant floor plan design tools, available for £80.12.
SmartDraw: Customise templated floor plans for £7.98 per month or £95.71 for the entire year.
ConceptDraw: To access the Pub, Café and Restaurant Solution (£20) you'll have to download ConceptDraw Pro, which costs £160.
15 Restaurant Floor Plan Examples to Inspire You
1. Everything and the Kitchen Sink
Your kitchen floor plan is crucial to your bottom line.
A kitchen layout affects everything from food quality and speed of service, to food safety and hygiene, so it's something you really have to get right.
The floor plan shown above illustrates a restaurant kitchen designed around an island. This type of design works well because it:
Creates a lot of space for movement between workstations.
Facilitates supervision and communication between your chef de cuisine, their sous-chefs, and the line cooks.
2. Too Many Cooks in the Kitchen
In larger, more commercial kitchens, each staff member is responsible for only one or two stations, which makes staff movement around the kitchen less important than in the previous example. Staff stay at their stations, while the food does the moving.
The floor plan above directly illustrates how your food will move through each station as it is prepped and assembled, helping to create an efficient workflow.
3. In the Zone
A third style of kitchen layout design is the zone layout.
As illustrated above, the zone layout breaks your kitchen area into work areas, much like in an assembly line setup, only it isn't in a line or a circle.
This layout works well for small spaces where you have multiple people working together. While it doesn't necessarily facilitate staff movement through the whole space, it creates individual stations that your cooks can take ownership of and move within, enabling efficiency in each zone.
4. Spatial Strategies for the Social Distancing Era
If you're planning to reopen your restaurant after COVID-related closures, it can be useful to create a basic floor plan design for the new layout. This can give you a better idea of how you'll accommodate social distancing and adhere to new government regulations.
This floor sample floor plan provides a helpful reference for how to make the tricky transition from pre-COVID to post-COVID dining. As you prepare to reopen, you can reorient your exchange space to allow for the pick up of takeaway and delivery orders.
And when you're ready to reopen, you can create a new exchange zone that acts as a buffer between the dining area and kitchen. If you have the space for it, you can also extend your outdoor seating to make up for reduced capacity inside.
5. Lay It All to Rest(room)
Not the most glamorous topic for sure, but lavatories are a requirement in any sit-down restaurant and an important part of customer experience.
Include cleaning tasks in your general workflow and carefully consider the placement of your lavatories in relation to the dining room.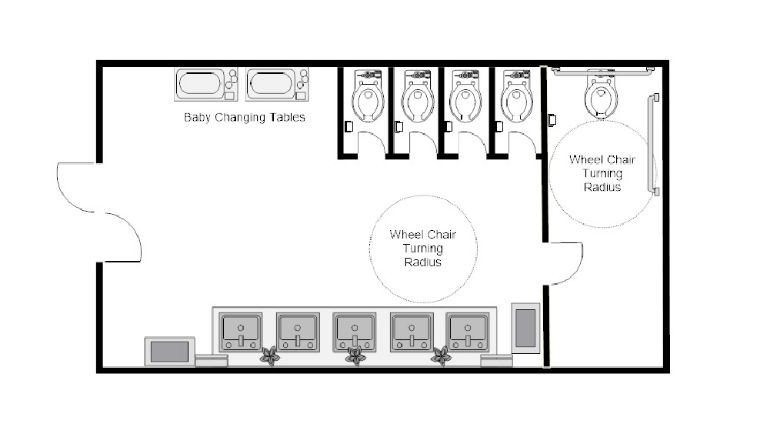 The lavatory floor plan above does a great job of considering accessibility by factoring in the space required for wheelchair access, as well as including change tables so parents with children are accommodated.
It isn't shown here, but the location of the lavatories within your restaurant's overall floor plan is also highly strategic. Consider the following:
Proximity to the dining room (smells, people!)
Atmosphere. Does it follow the vibe of your restaurant and add to your customer experience?
Employee use! Will your staff use the same lavatories as your clientele, or will you provide a staff lavatory for them?
The transmission of germs on door handles, taps, and other high-touch areas – something that's especially important in preventing the spread of COVID-19
6. Up Against the Wall
Bar Raval is a Spanish tapas bar that has quickly claimed a spot on the list of top Toronto bars.
In the above floor plan, you can see how the owners of Bar Raval had to make the most of a long and narrow space. Setting the bar and coffee station together against the sidewall frees up floor space so the servers can navigate through the high-traffic areas of standing tables, with plenty of room for their trays full of tapas and intricate cocktails.
7. Centre of Attention
If ample space is a luxury you're working with, placing your bar in the centre of the room – like the one above – can spruce up your customer experience in a few different ways:
A centre bar increases the amount of seating available at your bar, which provides lots of room walk-ins to sit and try out your menu.
Because of the extra seating, the central bar can replace a waiting area, allowing your customers to sit and have a drink while they wait for their table to be ready, directly (and effortlessly) increasing sales.
A centre bar also provides a stage for your bartenders, who can show off their flare while preparing drinks. Dinner and a show.
8. The Bar at the Back
On the other hand, placing a small bar at the back of your restaurant, as in the floor plan above, creates more intimacy. It's a great way to facilitate relationship-building between your all-star bartender and their regulars – and loyal regulars help your profitability, providing a steady stream of business.
9. The Dining Room
Your dining room floor plan has the power to make or break the customer experience, which directly affects your sales.
Not sure how big your dining room should be?
Here are some guidelines for figuring out the average square metre you need per customer, depending on your venue type:
Fine dining: 1.7–2 square metres (18–20 square feet)
Full service restaurant: 1.2–1.4 square metres (12–15 square feet)
Fast casual: 1.1–1.4 square metres (11–14 square feet)
Fast food: 1.1–1.4 square metres (11–14 square feet)
In a 110 square metre dining space, you could fit up to 80 to 100 seats, depending on the experience you're trying to create for your customers. Just keep in mind that these guidelines do not account for any COVID-19 capacity limits.
The floor plan above selected smaller square tables that tuck nicely against the wall around the perimeter of the room, creating an intimate space for small groups or couples. The middle of the room features round tables with ample space between, so customers don't feel like they're sitting with their neighbours and staff can move freely around the space.
10. A Round Table Discussion
Your dining room floor plan is as much a document to help you design your space as it will be a map for your staff to navigate sections and table numbers.
The layout above follows a simple grid pattern that will be easy for staff to memorise and navigate in a restaurant with so many tables.
11. Counter Offer
Whether you're slinging bottles of your in-house hot sauces or selling branded t-shirts and tote bags, a retail area requires space, and that space requires planning.
Where you place your retail space within your restaurant will depend on the type of space you have, but the retail space itself should feel distinct from the dining room and follow retail sales principles that encourage browsing and product pairing.
The layout above has multiple display options, lots of room for browsing, and makes it easy for counter staff to keep an eye on what's happening in the space.
12. But First, Coffee
We tend to think of our space in square footage, but if you cubed that footage, consider how much space you could gain.
Floor plans in 3D are a great way to explore the ways you can use vertical space. The kind of art and light fixtures you choose – which contribute to your over ambience and aesthetic – are directly affected by the height of your ceilings, so getting a 3D picture will help you plan.
This 3D floor plan of a small cafe allows the owners to get a clear visual of what the finished product will look like, how choices for the wall decor, window signs, and lighting keep the venue on brand and make a limited space feel more open.
13. Make a Lasting First Impression
They say you form an impression of a person within the first three seconds of meeting them. So why should it be any different stepping into a restaurant?
There are a million ways to make a great first impression, but the one that matters most is how the design of the entrance helps welcome guests to your restaurant.
The floor plan above gives the host or greeter – or even cashier – a chance to welcome customers in a separate, controlled area before introducing them to the noises and smells of the dining room. There's also a waiting area where customers can sit down, away from the door and restaurant traffic, until their table is ready.
If you want your guests to experience a calm, relaxed ambience, consider carving out ample space for this kind of separate entrance area.
Take a hint from the sample floor plan above, and see how you can make use of space at the very back of the kitchen – a space that isn't as ideal for moving or storing inventory. Your staff will be grateful to have a place to safely store their belongings and take a break – without that break happening in front of customers, which helps you maintain the restaurant's ambience.
14. Think Outside the Box
If you're lucky enough to have a bit of outdoor space – and have a climate that makes it usable for more than a couple of months a year – you can really maximise that space. And, as a result, your profit.
This outdoor seating floor plan combines diagonal and booth seating to make the most of the extra dining space. They also threw on some outdoor-appropriate decor elements like natural greenery and a fountain to create ambience even outside the restaurant's dining room.
15. Working the Angles
Not all spaces are created equal. Sometimes, the space you have to work with is angular and strange. There's no reason you can't use that to your advantage in creating a unique space like in the floor plan above, which includes original seating options like rounded and snake-like booths that still leave plenty of space for staff to navigate the dining room floor efficiently.
POS-Script: A Note About EPOS Stations
Anything that empowers your work more efficiently can have a huge impact on your bottom line. Your EPOS system is your server's best tool in providing high quality and efficient service to customers – but that doesn't mean it should take up a chunk of your dining room.
Modern EPOS solutions include smaller designs than a traditional EPOS, so stations take up less space in your layout.
Or, you could opt for tableside ordering, which involves using portable EPOS devices – generally tablets – to take orders directly at the table. This allows servers to send orders to the kitchen right away, meaning you don't have to factor in how your servers will move through your layout as they go from table to the EPOS station and back again. They can simply carry the EPOS with them, providing faster, more accurate service.
The reality is that certain elements and details of your floor plan will naturally change and evolve over time, but the basic structures and foundations you lay down in the beginning will likely stay the same. Even if you need to make temporary changes to accommodate COVID-19 restrictions, starting with a solid restaurant floor plan will serve you well in the long run.
Create space in your budget to design a floor plan that helps your kitchen work efficiently, allows your servers to offer top-notch service, and gives your customers an unforgettable dining experience. Everyone will appreciate it – including your bottom line.
Get hot restaurant tips. Delivered.