What's better than enjoying a bottle of wine with dinner?
How about enjoying your favorite bottle of wine alongside the ambiance, company, and food of a great restaurant experience?
Some restaurants allow customers to bring their own bottles of wine (and sometimes beer or liquor) to consume with their meal. Many establishments that allow BYOB ("bring your own bottle") charge customers a corkage fee to cover the cost of serving the wine and to recoup revenue lost by the diners not purchasing wine from the restaurant.
We're unbottling everything you need to know about BYOB laws and corkage fees so that you can maximize on these offerings if you decide to implement them at your restaurant.
In this guide to BYOBs and corkage fees, you'll learn:
What is a corkage fee
When you should consider implementing BYOB at your restaurant
The pros and cons of implementing BYOB
What to consider if you decide to offer BYOB
Cheers to making smart business decisions!
What Is a Corkage Fee? And Other BYOB FAQs
BYOB restaurants let their customers bring their own bottle of wine to consume with their meals. Some of these restaurants make customers who bring their own bottles pay a corkage fee to consume their outside alcoholic beverages on site. But what does a corkage fee cover, how much is the average corkage fee, and is it even legal to charge one?
Keep reading for the answers to these BYOB FAQs!
What Does a Corkage Fee Cover?
Part of the reason why restaurants charge a corkage fee is to cover the cost and time associated with serving a bottle of wine.
While the most basic service that restaurants provide is removing the cork from the bottle, you also supply customers with stemware (anything from a basic wine glass to a glass appropriate for that specific type of wine), refill glasses, and (potentially) chill the wine. The complexity of services provided for BYOB customers depends on the restaurant's sophistication and the cost of the corkage fee.
How Much Is the Average Corkage Fee?
Many restaurants charge between a $10 and $40 corkage fee per bottle of wine. In New York City, for example, the average corkage fee is $36 per bottle. However, some corkage fees can be upwards of $100.
Usually, the more expensive a restaurant, the more expensive the corkage fee. High-end restaurants offer an exceptional level of service and wine-related amenities, which is why they can charge a higher corkage fee than your favorite neighborhood takeout spot.
If you're implementing a corkage fee for the first time and don't know where to start, make it equivalent to the cheapest bottle of wine available on your menu. You can charge per bottle or per person (a.k.a. "per stem").
Are Corkage Fees Legal?
While most municipalities don't control how much restaurants can charge for corkage fees, many regulate most other factors surrounding corkage fees. This includes regulations around which establishments can allow customers to consume alcohol on premise, when they can charge for alcohol, and whether or not they can allow BYOB practices.
We'll get into the specifics of BYOB and corkage fee laws deeper into this article, so keep reading!
When to Consider Allowing BYOB at Your Restaurant
So what kind of restaurants are natural fits for BYOB and which aren't?
Here are several scenarios in which you may want to allow customers to bring their own bottle of booze:
Your restaurant doesn't serve alcohol: If your restaurant doesn't serve alcohol, and you live in an area that allows customers to consume alcohol on site without a liquor license, then you may consider allowing BYOB to let customers enjoy a glass of wine that they otherwise wouldn't be able to order from your restaurant. If local laws allow it, you can charge a corkage fee to recoup for the labor involved in serving the wine.
You have a liquor license but don't serve alcohol yet: Most local laws require you to have a liquor license to serve alcohol on premise or to charge for it. Let's say that your restaurant has obtained a liquor license, but hasn't yet developed its wine list or beverage program. By allowing customers to BYOB and charging them a corkage fee, you can give diners the experience they want while starting to earn back what you've invested into the liquor license.
You run a restaurant that's great for special occasions: When restaurants that are popular for dates or celebrations let diners bring their own wine, they enhance the customer experience. For example, a couple celebrating their anniversary at your restaurant could mark the occasion with a wine they bought on their honeymoon, which may not be on your restaurant's wine menu.
By offering BYOB at these kinds of establishments, you can attract more wine-loving customers.
The Pros and Cons of Offering BYOB
Perhaps your restaurant is the kind of place that would be a good fit for BYOB, but you're on the fence about whether or not to offer it. We've contemplated the pros and cons of allowing BYOB to help you reach an informed decision more quickly.
Pros of Offering BYOB at Your Restaurant
Lets customers drink even if your restaurant doesn't serve wine: If you don't already serve alcohol at your restaurant, allowing BYOB lets customers enjoy a product that they wouldn't be able to get from your restaurant otherwise.
Enhances special experiences: BYOB gives customers the ability to transform a meal into a special experience by letting them bring a wine that has meaning to them.
Makes your restaurant more competitive: If other restaurants in your area allow BYOB but yours doesn't, your business may be less appealing to diners. Allowing BYOB can help you keep up with the competition.
Cons of Offering BYOB at Your Restaurant
Lost profits: If customers are allowed to bring their own wine, they won't purchase wine from your wine list. If you don't serve wine, then that's not a problem. If you do, it could seriously bite into revenue as alcohol typically has large profit margins for restaurants. You can recoup lost profits, however, with your corkage fee.
Intoxicated guests: When guests bring their own bottle, they may drink more than they would if they were paying the restaurant markup. For this reason, BYOB can be a liability, especially in suburban or rural areas where people drive to and from your restaurant. Take precautions by training your servers to look for signs of intoxication and consider setting limits, such as two bottles per table maximum or a minimum of two people per bottle.
Slower turnover: Naturally, drinking a bottle of wine takes longer than a glass or two. This could slow down table turnover, as guests who bring a bottle typically linger after a meal to finish the wine. If you decide to offer BYOB, incorporate lost profits caused by slower table turnover into your corkage fee.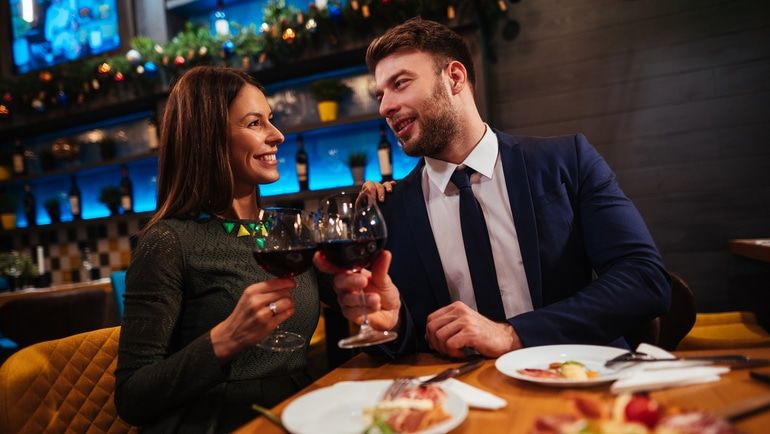 What to Consider If You Decide to Offer BYOB
If you ultimately decide to allow BYOB at your restaurant, you're going to have to do a little bit more research to ensure that you're doing it legally and that it makes financial sense for your business.
Here are some considerations to take into mind as you implement BYOB at your restaurant.
Laws
The first thing you need to think about when it comes to introducing a BYOB policy at your restaurant is how to do it legally. Do your research so that you can understand whether or not you can let customers bring in and consume a bottle of wine at your restaurant, whether or not you can charge for this, and whether or not your restaurant needs a liquor license or BYOB permit to allow this.
Here's a sampling of BYOB and corkage fee laws in major cities around the U.S. and Canada:
Consult a lawyer or fellow restaurateurs to find out how your area regulates liquor licenses, BYOB permits, and corkage fees.
Price
If you decide to add a corkage fee for BYOB diners, how much should you charge?
Ask yourself these two questions:
1) What are your competitors charging? This will give you a good idea of what charges diners are used to. If you're charging a significantly higher corkage fee than the restaurant down the street, diners will likely bring their bottle – and business – somewhere else. You want to remain competitive.
2) What level of service will you give guests who bring in their own wine? Will you just provide a corkscrew and plastic cups, or will you provide pouring service and an ice bucket? If you already have a sommelier and impressive wine list, you can charge upwards of $100 for corkage.
When Not to Charge a Corkage Fee
If you have a corkage fee, there may be a few cases in which you may not want to charge it.
If your restaurant serves wine, you could eliminate the corkage fee for customers who bring their own bottle but also buy a bottle from your list.
You could try out a no-fee day as a weekly promotion! Pick a day that's less busy, like a Monday or Tuesday, and offer no corkage fee to get customers in the door.
Some fine dining establishments forego a corkage fee completely when customers bring in a rare or expensive wine to let the sommelier or bar manager taste it.
Unbottling BYOBs and Corkage Fees
Wine and a delicious meal are a classic combination. When you let customers bring in their own bottle and charge a corkage fee, you let them enjoy a special bottle while recouping resources spent on service or from losing a sale. If you decide to offer BYOB at your restaurant, check your local laws to ensure you won't get into any trouble. Cheers!

Download our free inventory template
Subscribe to the TouchBistro Newsletter