"Rum and coke."
"Vodka soda."
"Gin and tonic."
On any given day at any liquor-licensed restaurant, you'll hear these drinks ordered again and again.
Though your well drinks list may be simple, these basic beverage ingredients are the unsung heroes of the bar. They're not listed on the menu, but they're always in high demand. They're quick to make and have high profit margins. If well drinks are great for business with little effort, imagine what they could mean for business with some creativity.
We're here to shine the light on the importance of well drinks to help you maximize their potential at your bar or restaurant. In this well drink guide you'll learn:
What is a well drink
The benefits of serving well drinks at your restaurant or bar
How to maximize your well drinks list
Recipes for 19 classic well drinks
What Is a Well Drink?
Well drinks, also known as "rail drinks," are mixed drinks made of one or more liquors and a combination of soft drinks. Rum and coke is an example of a popular well drink.
What differentiates well drinks from other cocktails is that they're made with the bar's cheapest liquor. These liquors are kept at the bartender's waist height in what's known as a speed rail. The rail is a rack that resembles a well, which is where the name "well drink" or "rail drink" comes from.
The well typically holds a cheap brand of vodka, tequila, rum, gin, and whiskey. Your bar should also be stocked with various juices, sodas, grenadine, triple sec, sour mix, and garnishes like cherries, lemon wedges, and lime wedges.
Beyond The Well Drinks List
While a well drink is what your bartender prepares when a customer makes a generic request like "rum and coke" or "vodka soda," sometimes customers want a mixed drink made with a specific liquor. When a customer requests the brand of liquor, it's known as a call drink. Examples of middle-shelf call drinks include "Jack and coke" (Jack Daniel's whiskey and cola) or "Bacardi and coke" (Bacardi rum with cola).
If your customers are celebrating a special occasion, they may want a mixed drink made with a top shelf liquor. This type of cocktail is called a premium drink. For example, they may ask for a glass of "Grey Goose and soda" instead of a generic "vodka soda."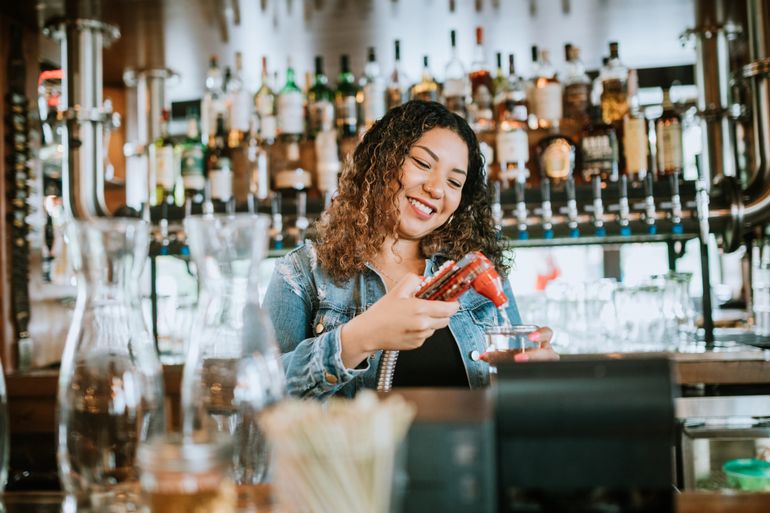 The Benefits of Well Drinks
In the business of booze, it's usually craft beers, frosé, and Instagram-worthy cocktails that get all of the buzz.
With a food cost percentage of 5%, well drinks actually have a higher profit margin than any other beverage or dish on a restaurant's menu. The lower the food cost percentage, the higher the profit margin. The average food cost percentage of food at a restaurant is 25% to 40%, while beer and wine have food cost percentages of 20% to 40% and 30% to 50% respectively. Because they're made with simple, low-cost ingredients, well drinks have the highest profit margins on the menu.
Another benefit of well drinks is that they are quick and easy to produce. In the time that it would take a bartender to make one $16 cocktail, your bartender could crank out eight vodka cranberries for $64 at $8 each – no shaker needed! Have your bar manager conduct pour tests every once in a while to make sure that bartenders aren't overpouring.
High profit margins and quickly produced in high volumes? Cheers to that!
How to Maximize Your Well Drink List
Give your well drinks some TLC to turn them into money-making machines. Here are four ways to make the most of your well drinks list.
1. Give your well drinks special names. A vodka tonic could be "Spiked Soda" while a Tequila Sunrise could be "Cancun in a Cup." Rebrand your well drinks with memorable names to make them seem like more than well drinks. This means that you can get away with charging more for them while still keeping prices below premium craft cocktails on your menu.
2. Dress them up. A drink in a plastic cup isn't as memorable! Make your well drinks stand out by giving them garnishes like mint leaves and citrus wedges, pouring them into special glasses (think tiki mugs!), or using fresh squeezed juices. Make sure to hire a barback to assist bartenders and keep garnish ingredients fresh – no one likes wilted herbs in their drinks!
3. Happier hour. Pair your well drinks list with premium food items during happy hour to upsell more expensive items on your menu. For example, your restaurant may charge $8 for a well drink and $15 for a premium sushi roll. The premium rolls have high profit margins for your business, but they're rarely ordered because your customers choose cheaper options. During happy hour, you could pair a well drink with a premium sushi roll and offer both for a discount – both for $20 instead of $23. This kind of promotion gets customers to try more expensive items on your menu in the hopes that they'll want to pay full price next time.
4. Have a contest. Host a contest among your bartenders or customers to come up with the most creative well drink creations using just the basics. Feature the winning recipes on your menu and highlight them on your restaurant's social media.
A Complete Well Drink List: 19 Essential Recipes
Well drinks range in flavor and complexity. Some are simple one-liquor-one-soda combinations (hello, vodka soda) while others are more complex (Long Island Iced Tea, anyone?). While experienced bartenders will have a well drinks list and recipes committed to memory, new bartenders may need some guidance. Here's a list of 19 essential well drinks and their recipe information to get the party started.
Vodka-Based Well Drinks
1. Vodka Soda
The vodka soda is a simple well drink that's perfect for customers who don't want the sugar or calories of a sweet cocktail. Garnish with a lemon, lime, or orange wedge.
2 oz. vodka
Fill rest of glass with soda water
2. Vodka Cranberry
This sweet vodka cocktail is a crowd favorite and is easy for bartenders to make in bulk. Garnish with a lime for a refreshing twist.
2 oz. vodka
2 oz. cranberry juice
Splash of soda water
3. Screwdriver
The screwdriver is a mimosa alternative for those who need something stronger with brunch (or dinner). Garnish with a maraschino cherry or orange slice.
2 oz. vodka
Fill rest of glass with orange juice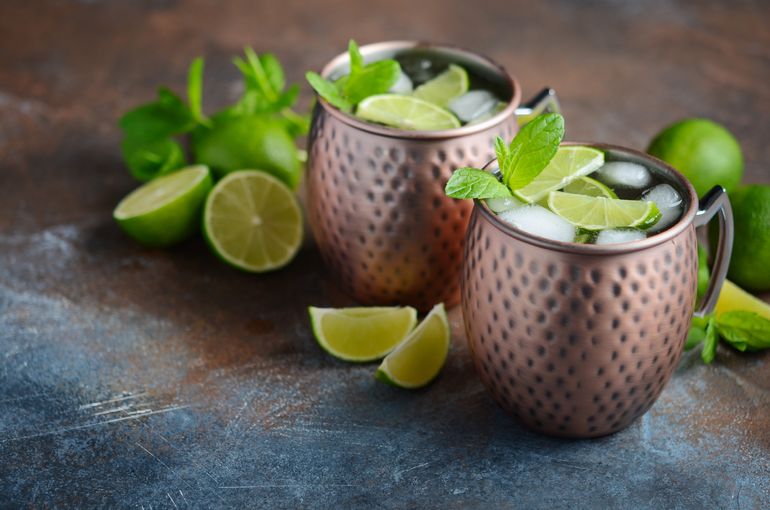 4. Moscow Mule
The Moscow Mule is a refreshing classic. Serve it in an iconic copper mug and garnish with a lime wedge.
2 oz. vodka
Fill rest of glass with ginger beer
Splash of lime juice
5. Dirty Shirley
A spiked version of the timeless mocktail. An orange slice pairs nicely with the requisist candied cherry.
2 oz. vodka
1 oz. grenadine
Fill rest of glass with Sprite
Maraschino cherry
6. Madras
This sweet cocktail is a hit in the summer. Garnish with mint leaves, a cherry, or orange slice.
2 oz. vodka
2 oz. cranberry juice
Fill rest of glass with orange juice
7. Kamikaze
While kamikazes are best known as shots, this combination also works nicely in different proportions as a well drink.
2 oz. vodka
1 oz. triple sec
2 oz. lime juice
Fill rest of glass with soda water
Gin-Based Well Drinks
8. Gin & Tonic
While usually ordered as a call drink or premium drink, the gin and tonic is a good candidate for well drinks as it's simple to make. A lime garnish is a must.
9. Gin Buck
The piney flavor of juniper in gin is enhanced with the spicy flavor of ginger ale or ginger beer in the gin buck.
2 oz. gin
Fill rest of glass with ginger ale or ginger beer
10. Gimlet
The gimlet is like a classic daiquiri but made with gin!
2 oz. gin
1 oz. lime juice
1 oz. simple syrup
Rum-Based Well Drinks
11. Cuba Libre
The well-known rum and coke combination is actually a classic cocktail known as the Cuba Libre, which got its origins from the American occupation of Cuba in the early 20th century. Garnish with a lime wedge.
2 oz. rum
4 oz. cola
One lime wedge
12. Daiquiri
Another Cuban classic, the daiquiri makes a great well drink because of its simplicity.
2 oz. rum
1 oz. lime juice
1 oz. simple syrup
13. Mojito
If your bar stocks fresh mint, you'll be able to take your customers to paradise with a mojito.
2 oz. rum
1 oz. lime juice
1 oz. simple syrup or 2 sugar cubes (bartender will have to muddle)
Fill rest of glass with soda water syrup
Mint leaves
14. Dark & Stormy
The Dark and Stormy is the rum version of a Moscow Mule.
2 oz. rum
Add a lime wedge
Fill rest of glass with ginger beer
Tequila-Based Well Drinks
15. Margarita
Margarita means party time. This classic cocktail is easy to make in bulk as a well drink.
2 oz. tequila
1 oz. triple sec
1 oz. lime juice
½ oz. simple syrup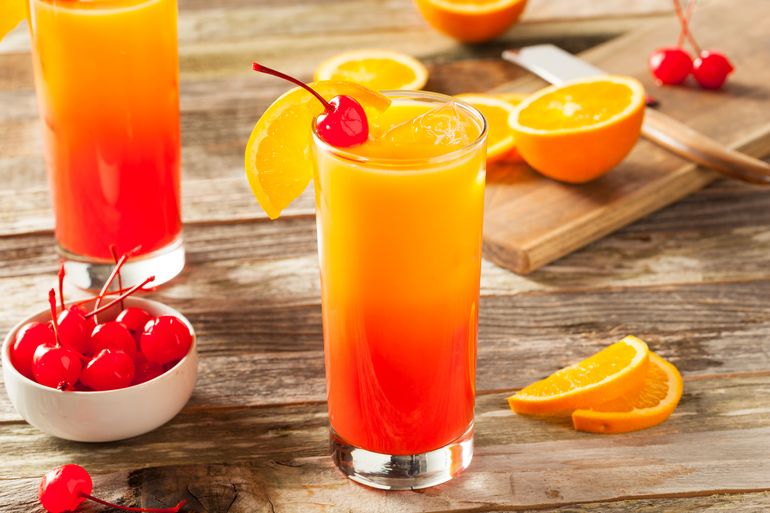 16. Tequila Sunrise
This fruity well drink is perfect for those who want a cocktail without a strong boozy flavor.
2 oz. tequila
1 oz. grenadine
Fill rest of glass with orange juice
Whiskey-Based Well Drinks
17. Whiskey Sour
This simplified version of a whiskey sour is a great option for your well drink menu.
2 oz. whiskey
Fill rest of glass with lemonade or sour mix
18. Whiskey & Coke
Is there any liquor that Coke doesn't go well with? This simple cocktail is often ordered as a "Jack and Coke" instead of a well drink.
2 oz. whiskey
Fill rest of glass with cola
Other Common Well Drinks
19. Long Island Iced Tea
The mother of all well drinks! The Long Island Iced Tea is a strong cocktail that's perfect for those who want to drink on the cheap. Because it uses four liquors, you can charge more for it. Keep those proportions in check to keep your customers safe.
½ oz. tequila
½ oz. vodka
½ oz. gin
½ oz. rum
½ oz. triple sec
1 oz. sour mix or lemonade
Splash of cola
Well drinks are the workhorses of the bar. They bring in high profit margins, but don't get much love in pop culture or on social media. With a few thoughtful twists, you can bring attention to your well drinks menu and increase revenue. Let's raise a toast to that!
Download our free inventory template
Subscribe to the TouchBistro Newsletter