These days, the best way to make sure everyone knows about your restaurant is to become "Instafamous." That's because Instagram – the ubiquitous photo and video sharing app – has become one of the top social networking platforms, and restaurant Instagram marketing has become a growing trend around the globe. After all, who doesn't love gorgeous food photos?
As a restaurateur, having a presence on this social network is a savvy move for your brand, considering that Instagram has over a billion users. Up to 90% of them follow business accounts, including restaurants, and 60% have heard about a new product or service using the platform.
And in the wake of COVID-19, restaurant Instagram marketing has become even more essential to success. Consumers have been logging increased hours online since the pandemic began, so it makes sense for your restaurant to show up where your potential customers are spending time – on social media.
Don't discount this strategy as just a popularity play, either. Almost 50% of diners report visiting a restaurant for the first time after seeing it pop up in their social feeds, which means restaurant Instagram marketing is a solid way to drive traffic straight to your door.
In addition, 69% of millennials are taking pictures of their food to post on social media, giving restaurants a unique opportunity to connect with this young generation of foodies. By including Instagram in your marketing plan, you can help these diners choose you instead of a competitor.
To help you navigate the ins and outs of using Instagram for restaurants, this guide will cover:
15 tried and true restaurant Instagram marketing tips to get you noticed
The best restaurant Instagrams to inspire you
Social media and restaurant marketing templates to help you get started
Let's dive into all things Insta.
15 Restaurant Instagram Marketing Tips for 2021
The Instagram app (and the way people use it) is ever changing. The good news is that many of the tips in this article focus on timeless marketing strategies, like building relationships with your customers to drive restaurant sales.
Of course, it's still important to stay up to date on what works on Instagram in 2022, which is why we've done the heavy lifting for you with these 15 restaurant Instagram marketing tips.
1. Encourage Customers to Follow Your Account
Make it easy for your guests to connect with you on Instagram – it shouldn't be difficult for them to find your Instagram profile.
Make your profile impossible to miss by sharing your Instagram @accountname – along with a custom hashtag like #joesbigwaffle or #bucaspizza – on your menu, on a chalkboard behind the bar, or even at the bottom of your receipts. By doing so, you'll encourage your Insta-obsessed customers to get snapping.
2. Engage with Followers and Reward Them
Restaurant social media is about much more than simply gaining followers. You need to create a sense of community with your customers by interacting with them online and rewarding them for engaging with your restaurant. After all, people sharing photos of your food on Instagram are recommending your restaurant and menu to their followers, so they deserve your appreciation.
Over 80% of businesses view Instagram engagement as the platform's most important metric, which makes sense considering that Instagram users are 4x more likely to interact with a brand than Facebook users.
Here are a few ways to show your followers some love and drive engagement with restaurant Instagram marketing:
Comment on photos your restaurant is tagged in.
Reshare your guests' Instagram stories about your restaurant with an enthusiastic shoutout.
Create Instagram contests for your customers to participate in, like asking them to post a photo of their most recent meal at your restaurant for a chance to win a free appetizer.
Get a photographer to take pictures of your customers enjoying your food. For example, Kelly's Bake Shoppe shares snaps of happy shoppers eating their treats, associating warm feelings with the brand.
3. Use Relevant Hashtags
The best restaurant Instagrams know that hashtagging your Instagram posts helps get your brand in front of more potential customers. #foodie (which has been used 178 million times) and #photooftheday (890 million) are popular choices, but you should also do a bit of research to see which Instagram restaurant hashtags are trending in your local area.
You can also experiment with niche hashtags that fewer brands have used to prevent your posts from getting lost in a sea of content. For instance, #birriatacos has only been used 80,000 times, but using this niche hashtag means that people specifically looking for birria tacos are much more likely to find your post than if you added the general hashtag #tacos (used over 10 million times!).
Pro tip: Keep your hashtags separate from your photos on Instagram by including them in comments on your posts instead of in captions themselves. Doing so will keep the spotlight on your content.
4. Post Attractive Food Photos
You don't need to be a professional photographer to master Instagram for restaurants, but you do need to put a little time and effort into your food Instagram shots to make your followers stop scrolling.
If you're looking for easy ways to make your food photos stand out, try these suggestions to get started:
Make sure your food photos focus on just that – your food – and that there's no clutter on the tables or countertops in the frame.
Play around with different kinds of lighting to take your dishes to another level.
Photograph your food from directly above to make it stand out. Flat lay images are visually compelling and have become wildly popular in recent years.
Highlight the funky features in your restaurant. Do you have a fancy tiled floor? Stan's Donuts in Chicago sure does, and they've been using it to give their food shots an Insta-advantage.
Add a pop of color to stand out. For inspiration, look no further than Pietro Nolita in New York City, a restaurant that turned their interior pink. Their store entrance is an Instagram post waiting to happen.
5. Integrate Your Restaurant's Branding
Believe it or not, restaurant Instagram marketing involves more than just posting pretty pictures. Make sure your account looks and feels like your restaurant so it'll be easily recognizable to your customers. Use your logo, brand colors and brand messages in your Instagram content to present a cohesive image that's undeniably you and that helps build brand loyalty.
Here are a few ideas for incorporating your restaurant's branding into your Instagram posts:
Stick to one dedicated color palette for consistency.
Use your brand font in posts that have text as part of the image.
Reflect your brand personality with themed photography. For instance, if your restaurant is fun and playful, let that show in your food shots.
Choose colors that align with your brand strategy. For example, if you run a family restaurant, consider bright colors instead of black and white imagery.
6. Team Up With Influencers
Partnering with food influencers like artists and bloggers is a solid way to boost your restaurant's brand on Instagram. These Instagram restaurant partnerships can also help you attract a larger audience than you could on your own by tapping into their loyal follower bases.
Take Sorry Coffee Co., for example. This Toronto cafe teamed up with local artists to create one-of-a-kind coffee cups that are just begging to be photographed. The result? Countless fashionistas have since flocked to Sorry Coffee Co. for a picture-perfect cup of joe.
7. Use Video and Live Video
More than a quarter of the content you post on Instagram should be video content, according to research from Beambox. However, this doesn't mean you need to rush out and hire a videographer. Play around with two different approaches to sharing video content on Instagram:
Instagram Stories: Use this feature to share quick video updates about weekly specials and other offerings like various restaurant contests. You can also use these short videos to drive users to the link in your bio to get more information.
Instagram Lives: With this option, you can give followers a more in-depth behind-the-scenes look at your restaurant. Try involving your team and sharing video messages from your chef. You can even give a sneak preview of your new seasonal menu.
8. Create Story Highlights
While regular Instagram stories disappear from your followers' feeds after 24 hours, story highlights live on at the top of your restaurant's Instagram profile page. Story highlights are a great way to show potential customers what your restaurant is all about and share timely content like menu changes or personal content like your staff's favorite drinks. These peeks behind the scenes are irresistible to Instagram users.
Pro tip: Create branded covers for your Instagram story highlights. These are more visually appealing than simply using a shot from your latest story as your highlight cover. Just be sure not to clutter up the frame, since highlight covers are bite-sized, after all.
9. Time Your Posts Right
Giving your audience what they want, when they want it, is one surefire way to master Instagram for restaurants and boost your popularity.
Most major brands post an average of 1.5 times per day to Instagram, according to research by Buffer. There isn't a drop-off in engagement for posting more often, as long as you can keep up with your frequency. To make it easier to maintain consistency, consider planning posts around recurring weekly themes, like Taco Tuesdays, or Thursday night drink specials, for example.
Research shows that the best time to post on this social network is when people are hungry (9 a.m., noon to 1 p.m., and 8 p.m.). Time your content to show up in potential customers' feeds when they're craving their next meal, and you'll have a better chance of getting them offline and into your restaurant.
10. Promote Direct Ordering
Your restaurant marketing strategies need to evolve with the times, and online ordering is a must-have offering for all restaurants today, especially amidst COVID-19 restrictions and concerns. The key is to make it easy for your guests to order food from you. Since they're already on Instagram, help them get their takeout straight from the platform (in as few clicks as possible).
For instance, with TouchBistro Online Ordering, you can add your restaurant's direct ordering link to your Instagram bio. This means that customers who are visiting your Instagram profile don't have to go look up your website to find out how to order from you; all they need to do is click the link in your bio and they can instantly place an order. It's as simple as that to make your next commission-free sale!
11. Monitor Your Message Inbox
Over 70% of customers are more likely to recommend a restaurant if the business responds to their messages quickly on social media. Makes sense, right? When was the last time you felt warm and fuzzy toward a brand that ignored you online or even in-store, or took forever to give you an answer to a question you asked? Probably never.
Moral of the story: don't neglect your Instagram inbox. Check it regularly and respond to messages in a timely and helpful way – the questions may be as simple as whether you offer takeout or when you're open until. Reply quickly and you might just find your next customer in your DMs.
12. Explore Paid Advertising
Gone are the days when a newspaper or radio ad alone would bring the masses to your restaurant. Instagram restaurant advertising can help you extend your reach on the social network and show up in the feeds of users who've already visited your website through tactics like retargeting. Paid ads on Instagram are affordable, so it won't break the bank to try this tip.
13. Consider Who is Posting
You may not want every employee having free reign of what goes up on your page. Pick a few trusted team members and review your social media strategy with them, so you're confident that what they post will line up with your brand. By limiting who has access, you're also limiting the chance of mistakes being made on your profile.
If you're uncomfortable with staff posting photos or content on their own, consider using a social media management software like SproutSocial or Hootsuite. You can pre-populate the images and captions you want posted ahead of time. With scheduling, you'll also have time to approve posts that staff write before they're published.
14. Master Food Plating and Presentation
Your Instagram should feature your most mouth-watering dishes that make your customers want to share them. Consider what food items you have on your menu, as well as the colors, textures, lighting, and angles that you can capture for the perfect shot.
Here are a few suggestions for creating the perfect food plating and presentation:
Use a color wheel to find contrasting colors that will pop. For example, a dish with orange undertones will pop on a turquoise background!
Try to avoid primary colors that are hard to shoot, such as pure reds, blues, and yellows.
Mix and match textures to create contrast and add dimension to your photos.
Pay attention to plating details, like if you should use a smaller portion to make food fit. For example, Food Dudes plates individual portions of desserts down to every crumb.
Photograph near windows for natural light, and avoid harsh overhead lights when possible. To increase natural light, find a white backdrop or use reflectors.
Be strategic with angles. For instance, shoot a bowl of soup from above so you can see what's inside. If you go too low, you'll end up with more of the bowl than soup.
15. Get Creative With Your Team
Similar to any restaurant marketing strategy, your Instagram game will be stronger if you involve more bright minds in it – specifically, your staff. Ask your employees which brands have caught their eye on Instagram recently, and how they did it, to gain inspiration for your own content.
While it's true that a few trusted staff members should be responsible for managing your restaurant's Instagram account, there's no limit to the amount of creativity you can generate from brainstorming with your broader team.
Best Restaurant Instagrams
We've just covered 15 tips to help you elevate your restaurant's presence on Instagram and drive business. Now, let's take a look at some of the best restaurant Instagrams online today to give you some inspiration for your next post.
1. Blue Bottle Coffee
You can find this specialty coffee roaster stateside in New York City, San Francisco, and Los Angeles, but the real action is on their Instagram account, which boasts nearly 400,000 followers.
So how did this brand manage to master Instagram for restaurants? Blue Bottle Coffee keeps their brand front and center with their blue bottle logo appearing in most of the thoughtfully styled photos on their feed, often alongside cuddly cats and dogs.
The coffee company has also mastered the "link in bio" feature with a unique, image-driven layout, rather than the typical list of links you often see on Instagram profiles.
2. The Acorn
This award-winning vegetarian restaurant in Vancouver, Canada has a stunning collection of food photography on its Instagram account, which has amassed over 26,000 followers. The eye-catching shots have a clean, minimalist feel with bright and contrasting colors – plus perfectly prepared food to entice followers to feast their eyes on the content.
The Acorn also makes excellent use of the Instagram story highlights section on their profile. The restaurant posts story highlights featuring takeout, brunch, drinks, reviews, and more so users can find the content they're looking for in just one click.
This fast-casual U.S. chain is known for their whole food ethos and healthy salads, but sweetgreen is also building their brand on Instagram with over 260,000 followers. sweetgreen's images have a consistent look and feel with bold, solid-color backgrounds and close-up shots of fresh ingredients.
3. sweetgreen
sweetgreen uses both IGTV and the newer Instagram Reels feature to share video content with followers on a regular basis. The brand's IGTV series #sweetclass highlights other restaurateurs as they cook on video, and even features food activists who share their knowledge on topics like container gardening. On the other hand, the restaurant uses Reels for quick clips that are sure to get your mouth watering, like breaking focaccia and dipping it in cranberry maple vinaigrette (yum!).
4. Black Tap
Black Tap in New York City rose to fame with their viral milkshake masterpieces. The colors of the milkshakes are vibrant, with extravagant textures that are fun to photograph. For example, the cotton candy shake at Black Tap includes a tall glass filled to the top with bright pink ice cream, a thick layer of vanilla frosting, blue and pink chocolate pearls, a crowned pile of whipped cream, a large swirled lollipop, rock candy, and topped bunches of cotton candy.
Black Tap's Instagram success started in 2015, leading to long lines, a release of a cookbook, television appearances, and restaurant expansions into Singapore and Dubai. By the start of 2016, the restaurant was selling approximately 3,000 milkshakes a week at $15 each, totalling $45,000 in weekly sales.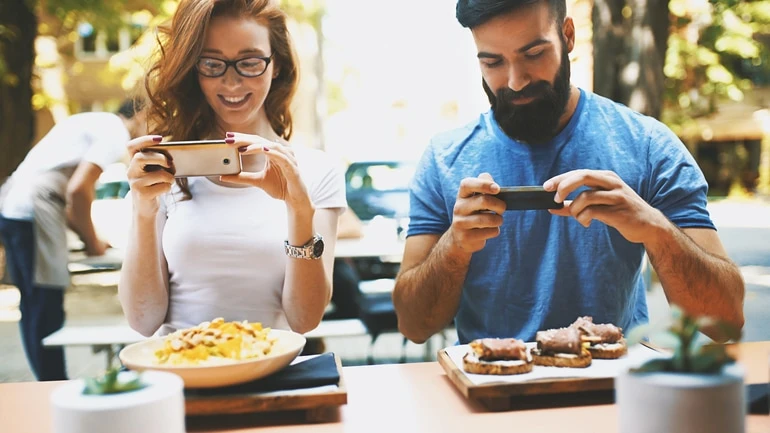 Happy 'Gramming!
You now have 13 tried and true restaurant Instagram marketing tips under your belt, and some inspiration from a few of the best restaurant Instagrams online to help you start creating content that your customers will love. So, it's time to grab your phone or camera and get snapping. While being strategic is important, remember to have fun with your restaurant Instagram marketing, and your restaurant community will, too.
Connect with us on Instagram @touch_bistro – we'd love to see the content you're creating!
Free social media templates for your restaurant
Get hot restaurant tips. Delivered.