Did you know that implementing a restaurant loyalty program is an effective way for restaurants to incentivize repeat business and increase revenue?
In an industry that's so closely tied to fluctuations in the economy and how consumers behave, restaurants depend on customer loyalty for survival. It's regulars – not one-off guests – that are the lifeblood of your business.
If you're looking to learn more about loyalty programs or for inspiration on how to structure your customer loyalty program, you've come to the right place. We'll show you:
The benefits of restaurants having a loyalty program
Restaurant loyalty program ideas and examples for starting your own program
Benefits of a Restaurant Loyalty Program
Restaurants having a loyalty program benefits business in three major ways:
It incentivizes repeat business
It increases your average order value
It offers you valuable customer insights
Loyalty programs boost repeat business
Successful restaurant loyalty programs play a major role in customer retention. When you gamify purchases – by converting dollars into points and letting customers earn rewards after racking up a certain number of points or purchasing items at your restaurant – you're incentivizing guests to keep coming back. Consumers will start to see their purchases not as spending money, but rather as leveling up in a game – making it easier for them to part with their dollars.
Fortunately, focusing on retaining customers pays off – in a big way. According to Harvard Business Review, it costs five to 25 times as much to acquire a new customer as it does to drive repeat business. Because your customers are already familiar with and like your restaurant, it's not an uphill battle to get them to come back.
Loyalty programs increase order size
The same Harvard Business Review study found that increasing customer loyalty by just 5% can increase revenue by between 25 and 95%.
How? Customer loyalty programs for restaurants can boost revenue by helping you upsell and cross-sell. For example, if your customer program offers bonus points to a member who orders a combo instead of a la carte dishes, you'll make more sales on drinks and sides. Or, customers may just purchase more than they had originally planned in order to rack up more points.
Loyalty programs offer valuable customer insights
Loyalty programs also give you insights about consumers – their behavior and preferences – which you can slice and dice in different ways to learn more about which menu items are working well. For example, you can look at what rewards members redeem the most versus the least, and then pair this with your sales data to see if there are correlations and any adjustments you can make to your menu to improve sales. You can also segment the loyalty program data to see what different types of consumers like the most so you can create targeted marketing campaigns.
And none of these advantages are limited to in-person orders. When your loyalty program integrates with your online ordering solution, like TouchBistro Loyalty and TouchBistro Online Ordering do, you can encourage repeat orders, improve your business using customer behavior data, and increase revenue across all your channels – whether your customers order in venue or online.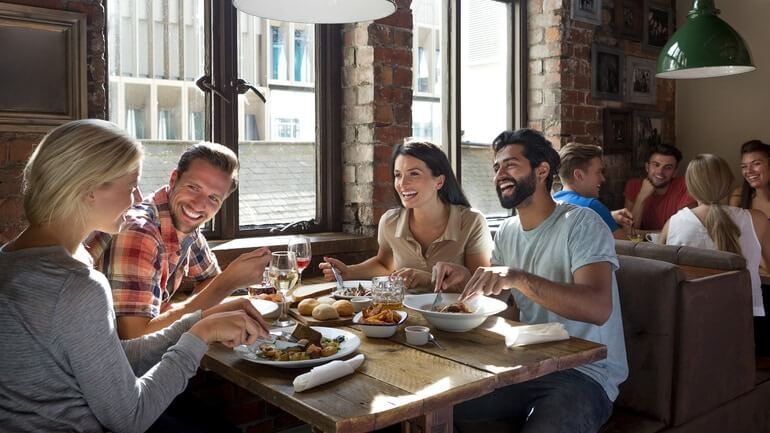 Restaurant Customer Loyalty Program Ideas & Examples
Now that you understand what customer loyalty can mean for your restaurant, we're sharing our top restaurant loyalty program ideas for inspiration. All program ideas include successful restaurant loyalty program examples that you can learn from.
The types of loyalty programs we're diving into:
Points-based rewards
Item-based rewards
Subscription rewards
Promotional rewards
Online rewards
1. Points-Based Loyalty Program
The way a points-based reward system works:
With a points-based loyalty program, customers earn a certain number of points for each dollar they spend, or for simply visiting the restaurant. Many restaurants with this type of program award members one point for every dollar spent. 
Customers can then redeem their points for food or merch at point values you set, or for credit to use at your restaurant. For example, at 100 points, you might let customers cash out for a $10 credit, or swap their points for a free side dish.
Example program:
Jacksonville, Florida-based Epik Burger has a popular loyalty program that gives customers points for checking in to the restaurant. After earning 75 points, customers can redeem a free fountain drink, and, after 100 points, a free milkshake. A member can swap two-hundred points for a burger, while 300 points earn customers a t-shirt. Customers can check their point balance and rewards option anytime through the restaurant's app.
Tip:
Keep your points-based rewards program fairly simple and straightforward. If customers know exactly what to expect – for instance, that members get a free item after every $25 spent – they'll be more willing to participate.
Just make sure that the redemption threshold and value of the reward don't cut into your profits.
2. Item-Based Loyalty Program
The way an item-based rewards program works:
If you're familiar with an old-school punch card system, you probably already understand how items-based rewards work. This model rewards customers for purchasing an item a certain number of times by giving them the next one on the house. For example, buy nine cups of coffee and get the 10th free.
Another spin on the item-based reward program is to implement a points-based system for point accrual, and then offer a specific item as the reward in place of credit. For example, you could offer customers a free doughnut after every 50 points earned.
Example program:
Epik Burger's loyalty program also has an item-based rewards component, known as the "International Burger Connoisseur Club." After eating every burger on the restaurant's menu, customers go on a slideshow in the restaurant, receive a t-shirt, and get a $25 gift card.
Tip:
If you only reward one type of purchase, you could be alienating loyal customers who purchase everything but that item. And if the reward is a particular item – which not all guests are guaranteed to like – you could, similarly, be limiting who participates in the rewards program.
Consider making the requirements for point collection broad. For example, if you run a cafe, consider awarding customers points for any drink over $5, rather than only for a coffee purchase. And, make your rewards more general. Instead of just offering guests coffee as a prize, offer a beverage of a specific size or value. 
3. Subscription Rewards Program
The way a subscription-based rewards program works: 
With a subscription-based rewards program, subscribers receive rewards for reaching certain membership milestones. For example, you might offer a meal kit subscription plan for a set price and reward customers after they've been a member for a specific period of time. This type of rewards program has become especially popular in recent years.
Example program: 
Au Bon Pain's now defunct Endless Coffee Mug club gave loyalty members unlimited coffee refills for an annual subscription fee of $199, which is equivalent to 54 cents per day. Besides the savings, subscribers were also rewarded with an exclusive, members-only reusable mug. 
Competitor Panera is trying something similar with its MyPanera+ Coffee club, which gives subscribers unlimited coffee and hot tea (with some limitations) for $8.99 per month. To join the club, customers first need to join the MyPanera loyalty program.
Tip: 
This type of loyalty program incentivizes guests to remain subscribers in order to obtain fun prizes. Consider making these rewards exclusive to the loyalty program, so that customers can feel pride in having earned them – and can't cheat by purchasing them somewhere else.
Also, think beyond merchandise for subscription-based rewards. Reward loyal members with exclusive experiences, like a tour of your brewery, or a private cooking class (virtual or in-person) with your chef. VIP experiences like these will be hard for a loyal member to pass up.
4. Promotional Loyalty Program
The way a promotional rewards program works: 
In this type of loyalty program, members receive rewards with expiration dates that encourage them to dine at, or order from, restaurants in a specific window of time. Such rewards don't have to be tied to specific spending behavior. Instead, you can offer these rewards as surprise promotions to, for instance, incentivize customers to dine with you for their birthday or boost business during slow periods.
Example program:
The sky's the limit with this type of reward. Combine creativity with strategy to target loyal customers and fill tables or generate orders when business might otherwise be slow. You could give:
A free dessert to loyalty program members during their birthday month, motivating them to celebrate this lucrative occasion at your restaurant.
A free appetizer to customers you haven't seen in a while on their next online order or in-venue meal.
A buy-one-get-one deal on doughnuts for guests on National Doughnut Day.
An offer for a free treat for a customer's membership anniversary.
A "just because" promotion to your big spenders to incentivize them to keep returning.
An offer that can only be used online to customers who only dine in, or vice versa, to boost sales in different revenue streams.
Dunkin', for example, gives DD Perks members limited-time offers to incentivize customers to try new items or increase sales during off-peak times. At the time of writing, Dunkin' was offering loyalty program members discounted $2 and $3 espresso drinks between 2 and 6 p.m., and two-for-$2, $3, and $4 breakfast wrap combo deals.
Tip:
If you advertise that you offer a birthday coupon for guests, or something similar, audit your loyalty program member list every once in a while to make sure customers aren't taking advantage of the system by signing up for the program with different contact information. Remember, your loyalty program should bring in more than it costs.
5. Online Rewards
The way online ordering rewards work:
While many restaurants have loyalty programs that only reward guests when they dine in, it's important to reward customers who order online, too. TouchBistro makes this easy thanks to the integration between TouchBistro Online Ordering and Loyalty. With this integration, customers can earn points and rewards for both online delivery and pick-up orders and in-venue meals, giving them more reasons to keep coming back.
Example program:
There are many coffee shops in Austin, but Bandit Coffee differentiates itself by being a mobile-order based cafe. Customers can place orders online, and get rewarded for them, by using Bandit's app. After placing five orders through the app, customers receive their sixth order for free. App users also receive access to exclusive rewards and promotions.
Tip:
Apply a points- or items-based scheme to your online ordering rewards. Make it match your in-venue rewards program for a seamless customer experience.
You could even use your loyalty program to incentivize online orders. Give loyalty program members a coupon code for their first online order, or make some rewards only redeemable online.

It costs far less, and takes much less effort, to market to customers who already know and love your restaurant than to attract new customers. Implementing a loyalty program at your restaurant is an easy and effective way to make the most of your existing clientele and boost revenue. A rewards program can help you incentivize repeat business and increase your typical order size. Pick a rewards structure that works for your business and customers, find the right customer loyalty software to facilitate your program, then sit back and reap (your own) rewards.
Free Restaurant Cleaning Checklist
Subscribe to the TouchBistro Newsletter